Are you a chainsaw user, and you want to hang it on a chainsaw holder, but you don't know how to make one? If yes, then this is definitely the right place for you to be.
Making chainsaw holder is pretty easy once you know the right instructions. A DIY chainsaw wall mount is the best method of making a chainsaw holder, and you can make it by attaching the holder to a wall via nails or screws. Another way to make a chainsaw holder is by using a piece of wood. It can be easily attached to a wall or fence using nails or screws. The advantage of this approach is that it is quite strong and durable. However, it is important to ensure that the wood is treated properly such that it doesn't rot, and your chainsaw can be stored safely.
In this article, you will get to know all about storing your chainsaw, how to make chainsaw holder, how to make a chainsaw holder to carry the chainsaw around, and more. Continue reading to get all the answers that you are looking for.
A Chainsaw Holder to Store Your Chainsaw
A chainsaw holder is not only a simple, but essential tool for any chainsaw user who regularly uses a chainsaw. It will help you keep your chainsaw safely out of the way when it isn't being used. Further, it will also provide a convenient place for storing your chainsaw while it is being used.
The advantage of this approach is that it'll help keep your chainsaw away from pets or small children. Further, it'll also keep any dust, chemicals, fluids, or other external materials away from your chainsaw. When using a chainsaw holder, it is important that you should ensure that the wall mount is attached firmly to the wall such that the chainsaw doesn't fall and hurt someone.
How to Make Chainsaw Holder
Here are some of the methods through which you can make a chainsaw holder and keep your saw safe when it isn't being used –
1. DIY chainsaw wall mount
There are numerous different ways through which you can make a chainsaw holder. One of the most popular methods is the DIY chainsaw wall mount. This method will involve attaching the holder to the wall using nails or screws.
2. DIY wooden rack
Another method for making a sturdy chainsaw holder will be by using a piece of wood. It can be easily attached to the wall or fence using nails or screws. The advantage of this approach is that it is quite strong and durable. However, it is important that you should ensure that the wood is properly treated such that it doesn't end up rotting.
3. Stihl chainsaw rack
A Stihl chainsaw rack is essentially a wall-mounted rack that is designed to hold the chainsaw securely while you aren't using it. A Stihl chainsaw rack is made up of heavy-duty steel and is capable of holding up to 2–3 chainsaws.
It comes with a powder-coated finish that is capable of resisting rust and corrosion, while it also comes with the necessary hardware for installation. A Stihl chainsaw wall mount rack is the perfect method of keeping the chainsaw out of the way when it isn't in use, and it'll help extend the life of your chainsaw by keeping it stored properly.
Make a Chainsaw Holder for Transportation
However, if you intend to work further away from your shed or garage, using a tractor to bring the chainsaw and other things that you need will be an excellent option. Many users choose to bring protective gear, spare gas, chain oil, and other tools aside from their chainsaw. The advantage of using a tractor for transporting the chainsaw will be that you can take cut wood with you on your way back. If you are using a tractor, what is the best way of carrying your chainsaw with you?
Generally, there are multiple ways of carrying a chainsaw with you on the tractor. The easiest and most obvious option will be to make use of a tractor chainsaw holder. Alternatively, you can even build a custom, DIY scabbard for the chainsaw and tractor. Another solution will be to use a box behind the tractor seat or, depending on the tractor, utilize a wooden box in the back.
How to Carry a Chainsaw Safely on a Vehicle
If you are using a tractor together with the chainsaw, you might be wondering how to carry the chainsaw safely. You might toss the chainsaw just in the back, but it doesn't seem like the best option to keep the chainsaw in great shape. Luckily, there are multiple options that you can use to take your chainsaw with you on the tractor.
1. Use a chainsaw holder
The easiest and most usable solution will be to fix a proper chainsaw mount of the tractor to carry your chainsaw safely and hassle-free. Such mounts can be easily fixed to different tractor parts since the package comes with a wide assortment of screws and clamps. The standard kit will include a heavy-duty, primary quality scabbard such that it can be fixed to the tractor or other vehicle easily.
You may have to pay around $50 for a simple chainsaw mount. From $100 or more, you will start getting other options like bar protection and other adjustment and mounting options.
You could fix the mount on the arm or the loader. Once you are done with the work, you can hook it back to the mount such that you won't forget it in the location. As it is mounted independently, there is no need to worry about damaging other things. With a sturdy, properly mounted mount, the chainsaw will not fall off on a bumpy ride.
However, you should make sure that the mounted chainsaw doesn't stick out to prevent it from brushing with the trees or shrubs when you're taking the tractor to thick woods. Similarly, if you're fixing in on the loader or other chainsaw parts, make sure that your clothing doesn't get caught up by the mounted chainsaw when you are jumping into the tractor in a hurry.
2. Mount a scabbard
If the tractor doesn't have a built-in scabbard for carrying chainsaws, you can easily make one with wooden planks or other materials and mount it on the tractor.
This is a safer way of carrying a chainsaw while driving the tractor. You could take a 2×6 and cut it lengthwise down the center. After that, you should clamp it on the tractor. It might not be the most durable solution as it could split after a while due to vibrations.
Similarly, you could clamp multiple pieces of plywood to make a scabbard to mount the chainsaw on the tractor. It'll be convenient to take it out and then put it back once you have finished the work, and it'll keep the chainsaw away from dirt and goo. However, you must be careful that you don't back into a tree and the chainsaw handle could get caught up. Chainsaws that have longer bars might stick out if the scabbard isn't long enough, and this might result in your clothes getting torn or result in accidental damage.
Unlike a plastic or wooden carry-all box, a scabbard would only carry the chainsaw. If you aren't able to fix the scabbard, it might fall off. Mounted scabbards might develop cracks or the clamps might loosen up after a while. It is recommended that you should check it regularly.
3. Fit a box behind the seat
If you're able to find a suitable box, you could use it to carry your chainsaw on the tractor. One of the easiest and most durable methods would be to fix a plastic pallet behind the tractor seat and fit in a milk crate. It'll be handy to place the chainsaw and other items like spare gas and oil when you're taking the tractor to do some work. You could also put a plywood box behind the tractor seat.
While this is an easy-to-do solution, some flip-sides will include not having ample space, or it could block the view.
4. Wooden box for carrying the chainsaw
If you are a DIY person, you could make a carry-all wooden box attached to the tractor for carrying not just the chainsaw, but you can also fix it on the fenders or behind your seat.
This method comes with many advantages. As it is DIY, you could customize it according to your usage while saving the cost of purchasing a chainsaw mount. Further, the wooden box could have room for different chainsaw accessories that you may need. The possible flip-sides will include the box cracking because of vibrations, damage to the chainsaw, or heaping a lot of stuff in the box.
5. Carry the chainsaw on the floor of the tractor
Storing a chainsaw in a bucket is an easy way, but it is far from perfect for carrying a chainsaw in your tractor. It is recommended that you should use a cloth for keeping the chainsaw from moving around inside the bucket if you're using it. Put your chainsaw in the bucket of the front-end loader when you're traveling to the woods on your tractor to clean up a fallen tree. You might even tie it on the floor.
But it isn't a good practice due to numerous reasons. It might slide around, which makes holes or scratches on the floor mat. A chainsaw on the floor will always be on the way to convenient access to the pedals and other stuff. If you're going steep downhill on a bumpy ride, it might slide off, and you might end up running over it
Use a SawHaul as a Chainsaw Holder Alternative
SawHaul is a chainsaw mount that comes for tractors and other vehicles. It can be easily fixed to your vehicle for carrying around the chainsaw safely and conveniently. This will be suitable for chainsaws of all brands, and it'll fit well for bars with lengths of up to 36 inches. The base kit comes with a chainsaw bracket, clamps, adapter plate, and bolts.
Most SawHaul kits for tractors will include a heavy-duty scabbard, a flat bar adapter plate, a chainsaw bracket, clamps, and the necessary bolts. Further, you will be able to clamp it to the RPOS, loader arm, or other parts of the tractor.
Make sure that the loader arms or other moving parts of the vehicle don't get in contact with the clamps or the mount at any point. If it does, it might damage the hydraulics of the tractor and the chainsaw mount. Periodically, you must check the installation to make sure it stays firm.
How to Make a Chainsaw Carrier
You can easily make a chainsaw carrier for your vehicle in different ways. You should put together a plywood box and then attach it to the vehicle as a chainsaw carrier. Alternatively, you could use a modified milk crate bolted behind the seat or on the fender as a chainsaw-carrying box.
You can even ratchet strap a cut-out milk crate to the fender,, as it'll work well to carry chainsaws and other items.
In all cases, you should keep the bar pointed away from the operator for easy and safe retrieval. You might also tie it to the crate if you're thinking it might slide off on a bumpy trail. If you haven't got enough space for these carriers, you could make a mounted scabbard made up of wood or plywood clamped to the vehicle's ROPS.
How to Transport a Chainsaw
While you are transporting a chainsaw, either manually or in a vehicle, you should always make sure that the sharper parts of your chainsaw are covered properly. Using a bar guard or a scabbard will help avoid injuries from the chain, while keeping away dust and dirt from getting to the chainsaw chain. Ideally, you should carry the chainsaw with the chainsaw bar pointing behind you. Make sure that the chain brake is on when you are transporting the chainsaw.
When you're transporting your chainsaw in a vehicle, you should secure it safely to avoid any damage to the chainsaw, vehicle, and injuries to you. You wouldn't want to have the chainsaw flying through the vehicle during an emergency stop. You could use a sturdy aluminum toolbox for this purpose. Likewise, you can use plastic chainsaw carrier trays with straps for securing the chainsaw inside the tray while you're transporting it.
Can You Hang Your Chainsaw By the Bar?
It isn't recommended that you should hang your chainsaw by its bar. You could mistake the small hole in the chainsaw bar for a mounting hole. With a full fuel tank, your chainsaw will be quite heavy. The bar isn't designed to handle such a load, and it might damage the chainsaw over time.
It is better that you hold it by the handle, although it is not recommended either. The disadvantage is that this might cause the rubber AV mounts to take some of the damage. Hanging the chainsaw vertically by the handle could also lead to a fuel leak. It is recommended that you should use a mounted scabbard for storage or place the saw horizontally on a shelf surface. You should make sure that the fuel cap is tight enough that it does not cause a leak. Remember, the shelf space shouldn't be wet. Make sure that solvents or corrosive substances in the same shelf space don't come in contact with the chainsaw.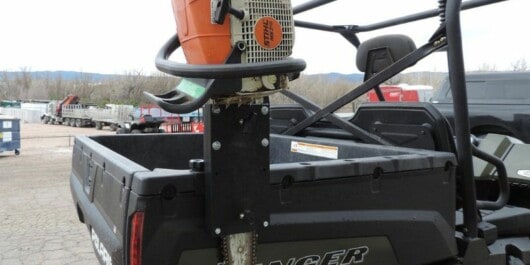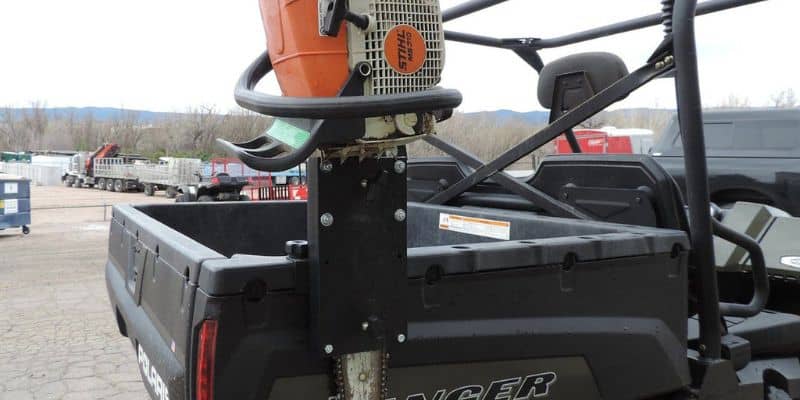 If you're going to store your chainsaw for an extended time, it is recommended that you should remove the bar from the engine unit. You could hang the bar by the hole as it'll be light enough. You should keep the bar in an air-tight set-up with grease or oil covering to avoid rusting from moisture.
FAQs
What is the best way of hanging a chainsaw?
There are many ways of hanging a chainsaw, but the best way to do it would be by utilizing a wall mount or rack. However, when you are using the chainsaw, the preferred method would be to use a cord or loop of rope, which can be tied around the chainsaw's handle easily.
Is it okay if I store my chainsaw vertically?
Yes, it is possible to store your chainsaw vertically by using a wall mount. A secure way to vertically hang your chainsaw is the standard and safe style among all chainsaw storage methods. Remember, you shouldn't hang your chainsaw by the guide bar. This method will end up putting the entire weight on the bar, which it won't be able to handle.
Is it okay if I run my chainsaw without a bar?
Running a chainsaw without bar oil can result in mechanical problems and serious safety issues like a kickback, chain failure, and more.
Would it be possible to leave fuel in the chainsaw?
Any gas remaining in the storage can or left in the chainsaw for more than 3 months could lead to expensive damage to your chainsaw's fuel system and engine. This is why it is recommended that you should always use fresh fuel or specially formulated fuel mixes in your equipment.