Having trees and plants in your backyard or garden is great for the beauty quotient, but it is essential that you keep it clean and well maintained; otherwise it can be potentially dangerous. Having a pole saw at your disposal will help you reach branches and high vines without needing to move around a lot.
If you're someone unfamiliar with pole saws and what is a pole saw used for, then you're definitely in the right place. Here you'll get to know all about these handy little tools. Most people familiar with using chainsaws, miter saws, and circular saws probably know that pole saws are often overlooked.
If you used a pole saw for your cutting and pruning needs, you will definitely benefit a lot. In this article, you'll get to know all about pole saws.
Chain saw vs. pole saw: What is the difference?
The primary difference between the two types of machines is their length. A chainsaw is comparatively short and is used when working close to your body for cutting logs and trees. Pole saws, on the other hand, are long and are used for cutting and trimming at places that cannot be reached with a chainsaw.
Although chainsaws and pole saws have many common features, there are a lot of differences too. People know when and to use chain saws, but not everyone knows what is a pole saw used for. In this article, you'll be guided through all the relevant things you should know about the more underrated cutting and pruning equipment.
RELATED: Safety Tips – How To Use A Pole Saw
What is a pole saw used for – The most common pole saw uses
Trimming Trees
In order to remove any unwanted limbs, dead vines, or branches, trimming trees will be necessarily. Excessive growth of limbs could be hazardous for the tree. A pole saw is commonly used to trim the trees quickly and effortlessly.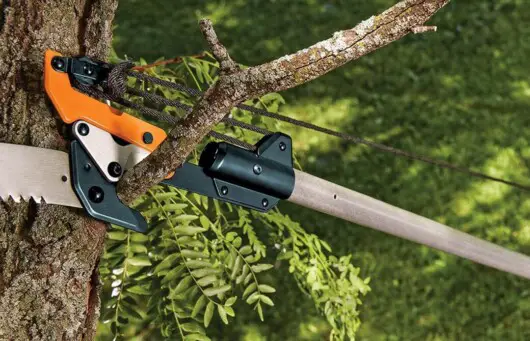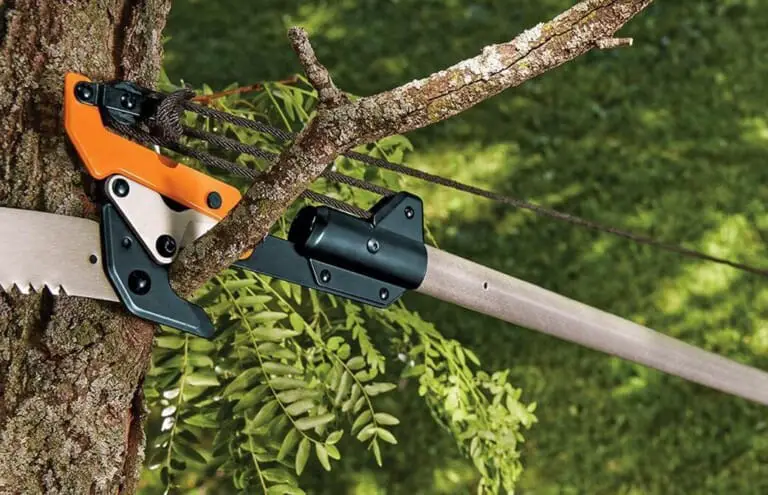 There are times when tree branches happen to block sunlight, which damages the growth and fertilization of plants and grass in your garden. Using a pole saw, you can trim the unwanted parts of the trees and give your garden the sunlight it deserves.
Natural disasters like cyclones, storms, or extreme weather conditions can damage the tree. Further, hurricanes, tornadoes, high wind, or excessive rains can damage your trees heavily while in winters, the trees can get dry, and it'll create possibilities of branches cracking. To prevent accidents or property damage from trees during such situations, you must remove any unwanted branches, vines, or broken limbs. Using a ladder for cutting with basic tools is extremely risky unless the trees are short. Using a pole saw would be the best choice for trimming trees without any hassle.
Clearing the bushes
With a pole saw, you'll be able to easily cut bushes and branches of the tree. It isn't always necessary to have a bush trimmer if you've got a pole saw at your disposal. Bushes that have problematic growth can often create a mess in your backyard, further, they could lead to harmful insects or snakes in the bush, which means that cutting them from a distance would be a much better option.
Tree pruning
Tree pruning is the best way to deal with the health issues of your trees. It is important to know that trimming and pruning aren't the same things, even though the two look very similar. At the end of winter seasons, tree pruning is done for the healthy growth of the tree in the upcoming months. Trees tend to grow comparatively faster in warm weather. For properly shaping the tree, pruning is the go-to option. The tree of vines that you see decorated well is thanks to the work of masterful pruning.
You should remove the branches of a tree that is creating problems for the tree in proper growth. It is even more essential when your tree has too many limbs or branches, as these branches will consume all the energy produced by the tree. Cutting those unwanted limbs and branches will help the tree grow accurately and quickly.
Cutting branches
Cutting tree branches is certainly one of the most tedious tasks, but you can effortlessly do it using a pole saw. For cutting a bush, a shrub, or small trees, you can use whatever equipment is necessary. However, cutting branches or thick vines that are more than 6 feet is extremely tough. Many accidents could potentially occur. However, the issues can be minimized if you use a pole saw for cutting branches. A pole saw is a great tool to help you reach dry branches or any unnecessary vines that are present at the higher end of the tree and require cutting down.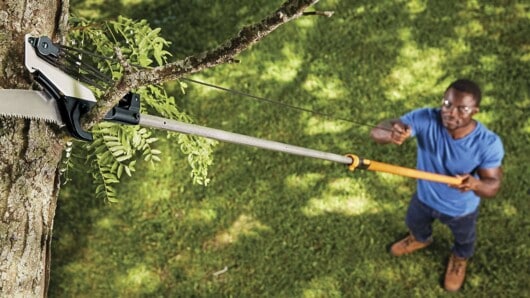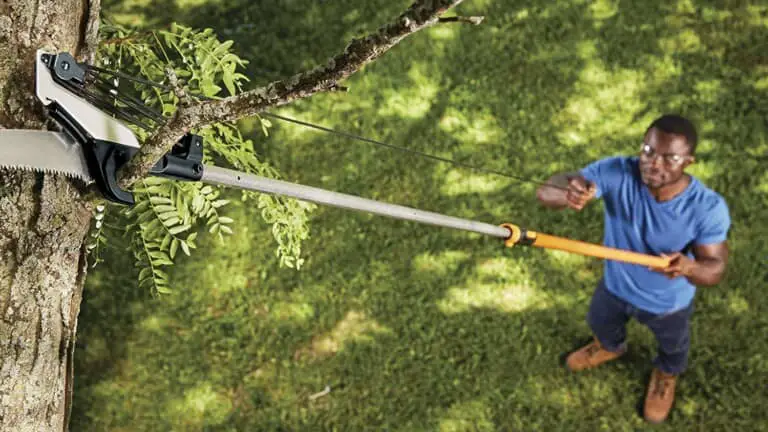 Cleaning roads and yards after a disaster
A pole saw is often used for cleaning streets and backyards after a natural disaster. Interestingly, big firms often use a hydraulic pole saw during a major incident.
A pole saw is pretty simple to use, and the mentioned work above will be completed within no time. With minimal knowledge, you will be able to use a pole saw. Besides, you'll be able to remove the pole and make use of the equipment as a chain saw if needed. For more help on how to clean-up after a disaster, read these guidelines by CDC.
Conclusion
A pole saw is versatile, handy equipment that will do wonders for your backyard, garden, and lawn. This tool helps in trimming the trees with little to no extra effort. Although it is a great tool to have in your arsenal, some people confuse a pole saw with a chainsaw, hopefully, this article would have cleared the difference and helped you understand what is a pole saw used for.
It is an exceptional tool to help you cut unnecessary branches, prune the tall trees, and remove larger shrubs. A pole saw will allow you to reach the higher areas of the tree without having to use a tall ladder. Going for a high-quality pole saw will help you efficiently cut and prune any unwanted branches or trees on your property. Use it once, and you'll realize what a versatile tool it is.