If you have a garden, or you have trees in your backyard, you'll know how important it is to cut them and maintain them. But how do you trim unwanted branches or vines that you cannot reach? You'll make use of a high-quality pole saw. Using this handy tool will make the cutting and pruning process much safer and easier.
Now comes the all-important question, how does a pole saw work? It isn't just important to have a pole saw, you should also know how it works and what is the right way to cut or prune branches so that your work can be done safely and within no time.
What are pole saws?
Pole saws are similar in design to hand-operated chain saws, except that they are smaller, lighter and come with a long pole attached to it. It means that all you'll have to do for maintaining your garden trees is plug in the pole saw. Then you'll be able to cut the unwanted limbs of your trees far quicker than compared to hand-operated saws.
Pole saws are available with telescopic poles, while some of the best ones can also be converted into handheld saws for cutting branches and logs into smaller pieces. However, electric pole saws do have the disadvantage of a trailing power line that can cause trip hazards and the potential to get tangled in the limbs or caught on a branch, which is definitely very irritating.
What are the uses of a pole saw?
A pole saw is essentially a chainsaw stuck at the end of a long pole, helping you reach branches and limbs on the higher end of the trees. This will help you maintain the tree through a wide variety of uses –
Pruning – In case your trees have unruly branches that require your attention, a pole saw will be the ideal tool for using thanks to its simple and effortless cutting abilities.
Trimming – A pole saw can be used for lighter garden tasks such as trimming bushes and shrubs.
Clear bushes – Bushes tend to grow quickly if they're left unchecked. A pole saw will be great for chewing through even the gnarliest bushes and give you a speedy way to clear off unwanted bushes.
Remove hard-to-reach branches – The blade on your pole saw will sit on top of a long pole, allowing you to increase the length of the pole saw and cut branches and vines that are out of your reach. Further, it'll save you the hassle of balancing on stepladders, where they are chances of injuries.
READ MORE: How o Use a Pole Saw (Guide)
How does a pole saw work when cutting or trimming branches?
1. Put your safety equipment first
Make sure that you wear your goggles, earplugs, gloves, and helmet, as falling objects are a common occurrence when operating pole saws. It is essential that you ensure that you also wear the right footwear and clothing, as safety shouldn't be half-hearted. Flip-flops aren't an ideal attire for gardening jobs like cutting or pruning. Likewise, protective gear and attires will protect you from further injuries if indeed you meet an accident.
2. Prepare the area for using a pole saw
After ensuring your safety measures, you should make sure that there are no risks or trip hazards that could lead to a potential injury. Keep a designated cordon around the area where you intend to work, such that it is marked should someone wander nearby.
3. Power up your pole saw
Now comes the time to plug in your pole saw while ensuring that the power cord is away from your legs for avoiding a trip hazard.
4. Plan where you want to cut the branches
With a clear plan in mind, target the branches and vines that are smaller and within your immediate reach. Position the pole saw and then press the trigger before holding the saw against the wood and then pressing down firmly.
Clear each piece of wood as you cut the branch. Avoid littering the floor with the chopped limbs, as it'll undo all the preparation you did before cutting the branches.
5. Cut the thick branches
Once you've cleared out the smaller branches near to you, now it'll be time to attack the thicker limbs on the higher end. You shouldn't try and cut those limbs in one swoop. Instead, make a groove cut at around 45-degree and followed by a straight cut such that the tip of the V joins. Take the pole saw and place it to the point of the groove and slowly slice through the branch before increasing the speed gradually.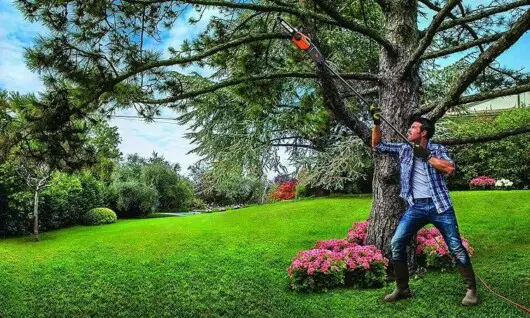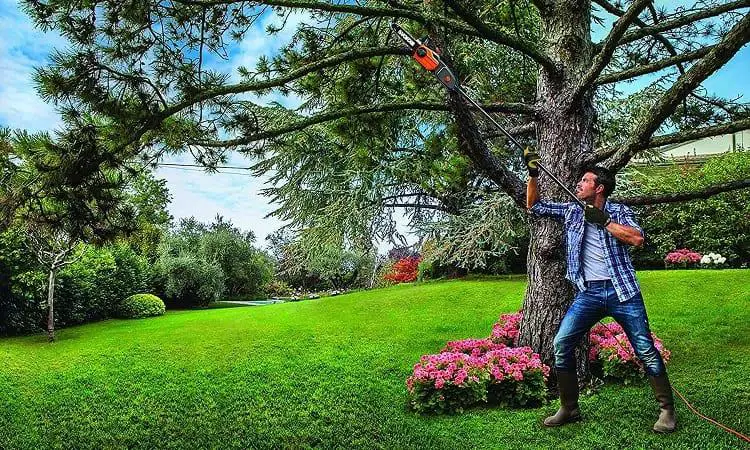 Keep in mind that it is natural for the saw to slip along the surface of the vine or branch, so you should regularly stop, reposition, and start the process again.
6. Power off once you're done cutting or pruning
Once you have removed all the unwanted branches and bushes, release the trigger, and unplug the pole saw. Ensure that the pole saw has completely stopped moving before you go near. Then remove the safety gear and clean the area.
Measures for a proper pole saw maintenance
Pole saws are tools that require proper maintenance for keeping them functioning properly and avoid potential problems down the line. The majority of the maintenance measures with pole saws revolve around its blade.
Check the oil reservoir for ensuring it is filled with chain oil before using the saw
Check for any abnormal wear
Check for loose nuts, bolts, and screws and tighten them according to your needs
Adjust the tension before you use the pole saw and undo the tension as the chain contacts after cooling
Clean the bar roles after sharpening the chain
Wipe the pole saw after every use and store it in a dry place
Check the power cord for potential cuts
Check the battery for damage or leakage and ensure the battery contacts are clean
Conclusion
Cutting trees and pruning branches will keep your yard or garden looking healthy and clean. This article will help you know how does a pole saw work, and it'll go a long way in maintaining your trees.