Are you in the market for a chainsaw? Do you find yourself confused with so many options and brands to choose from? Don't worry! In this article, you will get to know all the different factors to consider if you're in the market for a new chainsaw.
Key factors to consider when buying a new chainsaw
While it is normal to have questions like what should I look for when buying a chainsaw, it doesn't have to be something that leaves you confused and doubtful. If you are in the market for a new chainsaw, you're in the right place as here you'll get to know about all the key factors that you should consider when choosing which chainsaw to buy.
Purpose
One of the first questions that you must ask yourself when looking for a chainsaw is "Why are you buying a chainsaw? What is the purpose of the purchase? What are you going to do with it? If you need a chainsaw for some light pruning and trimming around the yard once every few weeks, then an electric chainsaw would be the ideal choice. If you're looking to cut medium-sized trees or cut branches on tall trees, then a gas-powered pole saw would be the premium option.
It is essential that you should consider the right type of chainsaw for the job, and always remember that the bigger option isn't always the right option.
For instance, if you're looking to clear bushes in your yard, and you have to work in tight spaces, then a small, cordless chainsaw would be a great purchase. It wouldn't make sense to fuel up a massive gas chainsaw and operate it in a confined area, as it would be full of challenges.
In fact, one of the freakiest incidents happened when Amazon delivered a real chainsaw instead of a kid chainsaw toy. Now, what use will a kid have for a real chainsaw when his dad had actually bought him a toy as a gift? Similarly, you should purchase a chainsaw that you have a use for, and don't buy the biggest one that you can get your hands on.
Engine power
For gas-powered chainsaws, the engine size is measured in cubic centimeters. In this case, the higher the CC, the more power will be generated. However, the trade-off will be greater weight. The engines will range in size from 23cc to 120cc. However, most users looking for a chainsaw to clean and maintain their yard will find a chainsaw between 30cc and 45cc to be good enough.
For electric chainsaws, the motor power will be measured in amps. In general, this kind of chainsaw has motors ranging from 8 to 15 Amps. Similar to gas-powered chainsaws, the higher the number, the greater will be the power generated.
The battery-powered chainsaws make use of Lithium-ion rechargeable batteries that are capable of lasting 2-3 years even if they're not being used. They refer partial instead of deep discharge, which means that it is better to recharge the battery frequently and not let it go all the way to zero.
Size of the guide bar
The size of a guide bar can be measured from the tip to the point where it comes out of the chainsaw powerhead, representing the actual cutting length. The chainsaw bars will range in size from 6 inches to 42 inches, even though most homeowners are unlikely to need anything bigger than a 20-inch bar.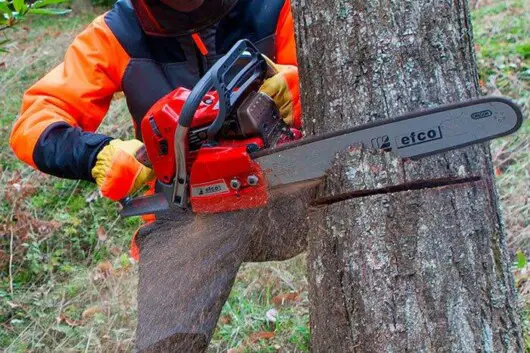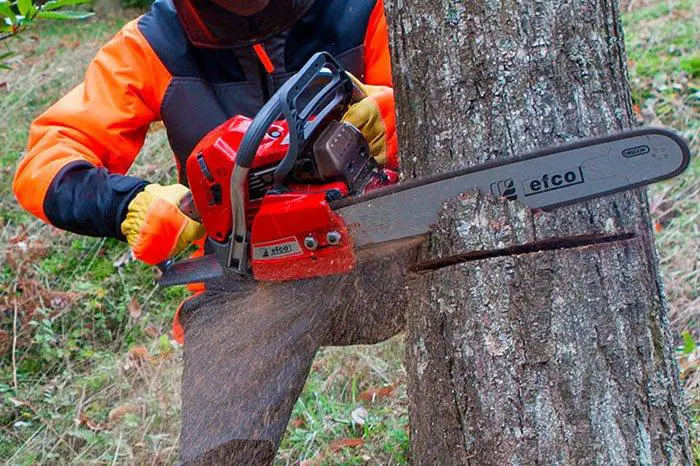 When used correctly, the chainsaw will be able to cut a log that is twice the diameter of its bar. The longer the bar, the bigger will be the diameter the chainsaw can cut in a single pass. As a role of thumb, the length of the guide bar needs to be 2 inches longer than the diameter of the branches/wood to be cut in one pass. Providing that the chainsaw has ample power, a 20-inch blade will be able to cut through an 18-inch log in a single motion.
Chainsaws are categorized as large, medium, or small.
Small chainsaws will come with bar lengths that range between 6-inch and 14-inch, and they're best for trimming, pruning, and light cutting. Further, they can be used for cutting branches of small sizes and bucking small logs.
Medium saws will come with bar lengths between 16-inch and 20-inch. The bar lengths are capable of performing a wide range of tasks, including storm damage, clean up, cutting medium-sized trees, and more.
Coming to the larger chainsaws, they come with lengths between 22-inch and 40-inch, and they're usually used by people who reside in rural areas like experienced ranchers or farmers. People who use large saws have to carry out heavy-duty work to maintain the property. This kind of saw is perfect for large trees and log cutting, but it might not be efficient for light cutting.
Portability/where you're going to use the chainsaw
If you're buying a new chainsaw, you should look for it after considering where you will use the saw.
If you're going to use the chainsaw in woodland areas, then a gas-powered chainsaw would be the better option. Not only will it disturb fewer people, but it'll also be easier to fill up with gas and oil. Although you could opt for a battery-operated chainsaw, you might end up finding the tool running low on power before you're done with the task.
If you reside in the suburbs, going for an electric chainsaw would be the better option, especially if you have to keep the sound on the low, and you have noise-sensitive neighbors.
Accessories/Additional features
The chainsaws today come equipped with several revolutionary features that chainsaws years ago could only aspire to have. There are a few features that you should definitely consider when you are buying a chainsaw.
Sprocket tips on guide bars – Having sprocket tips on the guide bars will help reduce friction around the tip, maximizing the cutting speed while also helping reduce the wear on the bar.
Automatic oiler – The automatic oiler will remove the need to flick the switch to release oil to the chain bar. It is important to oil the chains not just for improving the chainsaw performance but also for your safety.
Side-mounted tension adjustment – Using this feature, you'll be able to quickly and easily adjust the tension on the chain in case the tension on the chainsaw isn't correct. Many models come with auto-tensioning, which reduces the number of times you have to perform this task.
Heated carburetors – Many chainsaws are designed with this feature, as it prevents ice crystals from forming at low temperatures near the engine. This is extremely useful if you're cutting or pruning during winters.
Spring-assisted starting – If you're looking to purchase a gas-powered chainsaw, having the spring-assisted feature will reduce the pulling force and effort needed to get your chainsaw up and running.
Heated handle – This feature is useful if you live in an area that has a colder temperature or if you are performing most of the cutting during the winter season.
Vibration dampening system – This system will make cutting/pruning a much more enjoyable experience while reducing fatigue and helping you avoid any long-term injury if you use the saw frequently.
Carry case – If your chainsaw comes with a carry case, it'll be a great bonus. A carry case will make transportation much easier, while also helping in the storage of the chainsaw after use.
Quality and reliability/brand
When you're looking for a quality chainsaw, brands like Stihl, Husqvarna, and a few more are some of the names that stand out. However, it isn't to say that you should be a slave of the big-name brands and that their saws are superior. There are many small brands that have been producing high-quality chainsaws at affordable prices recently.
It is essential to go for a chainsaw that is reliable and will benefit you in the long run.
Price
There are several exceptional chainsaw brands in the market that make it easier for buyers to select the best option that fits their needs. However, ultimately, it all comes down to money.
You should consider your budget and scope out all the potential chainsaws that fall in your budget and check off all the boxes for your requirements. With such a wide range of options at your disposal, you will definitely be able to find one that suits you and your wallet.
Conclusion
Buying a chainsaw doesn't have to be such a tedious task, as long as you know the right factors to keep in mind when you're in the market for a new chainsaw. After going through this guide, you will not have any confusion or questions like "What should I look for when buying a chainsaw" because you practically have all the answers at your disposal.