When shopping for a log splitter, there are many factors to consider. You need to decide whether you want a more powerful gas-powered splitter or an eco-friendly electric log splitter. This decision depends on the type of wood you will be splitting and how big the logs are. That's also where the choice between a vertical or horizontal log splitter comes in.
This article covers everything you should know regarding vertical and horizontal log splitters.
Horizontal Log Splitter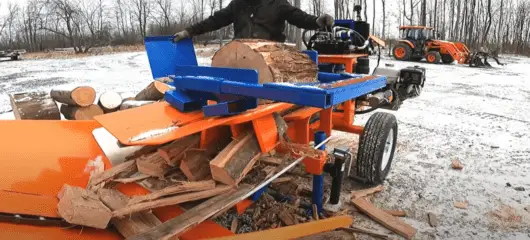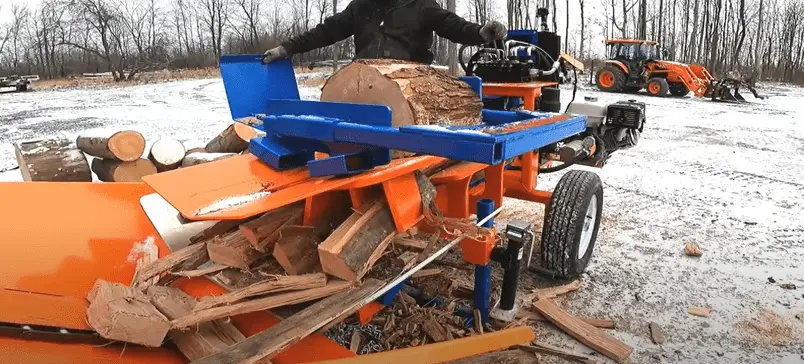 A horizontal log splitter is one where the logs are placed on their side. You place wood on the splitter in a horizontal position, where the wedge pushes it horizontally towards the splitter to get chopped.
ALSO READ: Best-Rated Log Splitter Review
This means you have to lift the logs up and place them on the machine. While this is easier when dealing with small-sized logs, it's impossible to use a horizontal splitter if the logs are huge. The only option would be splitting the logs into small logs that you can lift with your hands using a chainsaw or use a log lifter.
Horizontal log splitters are often recommended for home use because they are relatively lightweight and easier to transport. They can be fitted onto towing hitches, allowing you to haul the machine using a vehicle. Additionally, the splitter can be placed at floor level, on a table, or on a workbench.
Many brands offer horizontal log splitters, and it can become overwhelming when purchasing one. Some of the key features you should look out for include a two-directional splitting feature. The splitter allows you to split wood in two directions continuously without waiting for the ram to return to its initial position. Other horizontal log splitters will enable you to break a log into four pieces, saving you time.
Advantages
Most are electric and can be used indoors
Saves time thanks to two-directional splitters
Ideal for small chunks of wood
They are comparatively cheaper
Suitable for domestic use
Easier to transport/ tow
Some split in two directions
Disadvantages
You can't split large pieces of wood
You have to lift the logs
Lower tonnage options
Vertical Log Splitter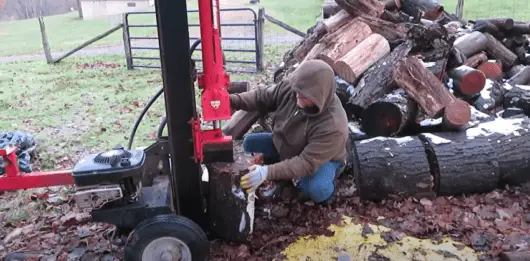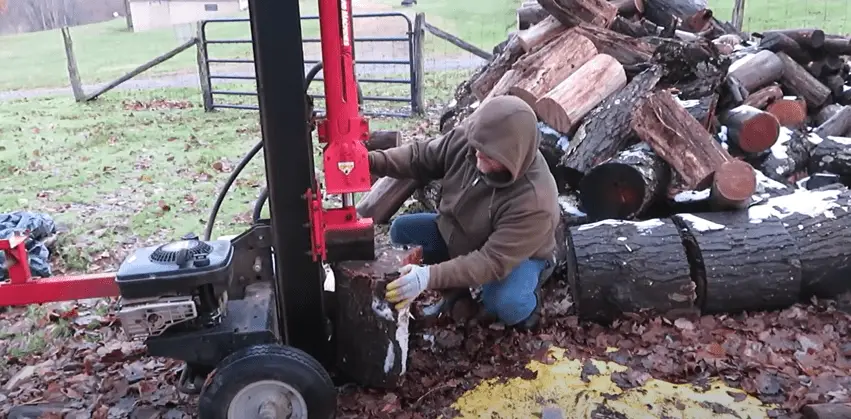 The main difference between the vertical and horizontal log splitter is that for the latter, you have to lift the wood and place it on the splitter. While in a vertical log splitter, you can easily roll the wood into position. However, you will need to balance the wood on one end for the vertical log splitter to operate efficiently.
Vertical log splitters are built with a splitting wedge placed into the hydraulic ram with a flat base, which means you have to position the log vertically then hold it in place with the two adjustable arms. The flat bottom is also flexible, allowing you to change height accordingly for smaller chunks of wood. Gas-powered versions have a higher tonnage, making them ideal for splitting green or hardwood of much larger diameter.
Most vertical log splitters available currently in the market can be tilted to work horizontally. With a vertical log splitter, you can split large and small chunks of wood. You can roll large pieces of lumber while the splitter is mounted vertically. Once the large log has been split, you can easily pivot the splitter into a horizontal position to further divide the wood into smaller chunks.
Advantages
A little easier to use compared to horizontal versions
Suitable for larger and harder pieces of wood
Have wheels attached for easy mobility
Electric versions have higher tonnage
Designed for professional wood splitting
Most of them can be used vertically or horizontally
Disadvantages
They tend to be more expensive
Most are not eco-friendly
Not recommended for domestic use
Conclusion
The choice between a vertical vs. horizontal log splitter lies in what you will be splitting. A horizontal log splitter will suit your needs for regular home use. But if you are dealing with logs of more than ten inches in diameter, a high tonnage vertical splitter will make the work easier. Despite being a bit expensive, vertical log splitters are a great value for money, thanks to their versatility. The electric versions can be used domestically because they don't produce carbon monoxide.
FAQ
Which is better between horizontal vs. vertical log splitter?
While horizontal log splitters are designed for domestic/residential use, vertical log splitters are more versatile and can handle a wide range of log sizes. Most vertical log splitters can also be tilted to function horizontally, and one does not have to lift the logs into place. You simply roll them into place and use a hydraulic lift to adjust the base's position.  
How does a hydraulic log splitter work?
Hydraulic log splitters use a hydraulic cylinder to push a piece of wood into a sharpened wedge that splits the log. A hydraulic pump produces pressure to drive the cylinder using power from an engine or an electric motor. Log splitters also feature a hydraulic relief valve that controls the maximum pressure that the pump can generate. 
How fast can you tow a log splitter?
Most log splitters are not designed for highway use, and the highest recommended speed for towing a log splitter is at 45 mph. Different laws and regulations limit the towing of log splitters in different states. Before towing your log splitter, ensure you are in compliance with your state's regulations.