While it's easy to move small log splitters, high-end models are huge, weighing upward of 500 lbs. Since it's almost impossible to load these models on a truck, the only option is to tow them on a truck or tractor. Luckily, these models come with pressurized wheels.
But what most people don't know is that there are regulations on towing log splitters on highways. This is because log splitters have no breaks, taillights, have a high center of gravity because of their bulky weight, and most of them lack suspension.
This post covers everything you should know about towing a log splitter on the highway.
Highway Rules About Pulling Log Splitter
While every state has its regulations regarding traffic and road obligations, you don't need to register a log splitter in most states. Wheeled log splitters are not considered a vehicle.
However, log splitters are not designed for highways. Most of them have very small wheels, while others are huge to the point of blocking your vehicle's taillights.
Here are some standard highway rules about towing log splitters in most states.
Avoid towing at night.
Towable log splitters are becoming more popular in the US and across the globe, but most are not equipped for night drives. Without any sort of lights, log splitters increase the chance of an accident because other drivers can't see the machine or, in some cases, your vehicle's taillights.
Do not Overspeed
Log splitters have a high center of gravity, making them highly unstable when towed at high speeds, especially during turns. Before towing a log splitter, go through the manufacturer's user manual to confirm the recommended speed limits.
Confirm the machine's tires
If the log splitter tires are between eight and ten inches, it is highly recommended that you don't exceed 45 mph speed. Any machine with a tire size of 13 inches and above can be towed at reasonable speeds.
Avoid heavy traffic
You can use GPS to map out the road with the least traffic. When towing a log splitter, you tend to drive at very slow speeds for safety reasons, which can be frustrating for other road users. By avoiding heavy traffic, you get to drive safely without any pressure.
Use a trailer
Using a trailer is the best method for towing a log splitter in terms of safety, speed, and regulations. While most trailers don't have brake lights, they have tail lights, stop lamps, and turn signals, which improves the drawbacks of a log splitter. It is recommended by most log splitter owners thanks to its convenience.
How fast can a log splitter be pulled on the highway
So, how fast can a log splitter be pulled on the highway? Before towing a log splitter, ensure it is adequately secured to the vehicle, the chains are in place, and there is some slack for turning allowance.
ALSO READ: Top Rated – Best Log Splitter on the Market
Due to their numerous drawbacks, you have to tow a log splitter at moderate speeds. Most log splitter owners recommend pulling the machine at speeds of between 30 and 45 mph, depending on the state you reside in. Commercial heavy-duty log splitters should be towed at slower speeds of about 5 to 25 mph.
However, be very careful when towing a log splitter on the highway. They have a short axle and do not have suitable tires that can be used at high speeds. They are also heavy and lack suspensions, which means they are highly unstable and can easily flip over or bounce around.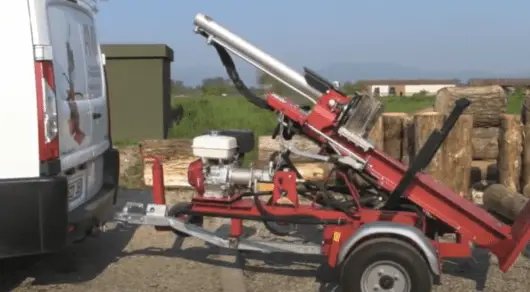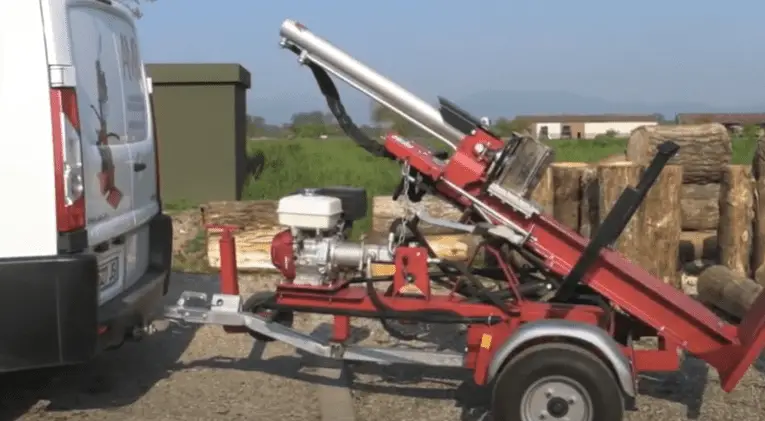 Log splitter tire pressure for towing on the highway.
Before towing a log splitter, check the tire pressure. Both tires on the log splitter should be inflated to 30 psi but remember excess pressure is highly dangerous while less pressure means you will be driving even slower. At 30 psi, the tires can handle the machine's heavyweight, allowing it to be firm and roll easily on the surface.
Extra tips
Be careful when backing up.
Don't carry any load or logs on then splitter when towing
Be cautious when turning corners, crossing intersections, and parking.
Be cautious when towing over rough terrains and bumpy roads.
Conclusion
It is common for log splitter owners to be worried about breaking the law when towing them on the highway. The fact is, most states don't require any licensing to tow a log splitter; you just have to ensure maximum safety. Understanding how to tow a log splitter correctly is not just about following the law. It's also about your safety and taking care of your log splitter.
FAQ
What are the different types of log splitters?
There are only three types of log splitters; manual, electric, and gas log splitters. Gas-powered are the most powerful log splitters, followed by electric log splitters. Manual log splitters require the most effort from the user to achieve results.
Do you need a license for towing a log splitter on the highway?
There is no safe answer to this because some states require a license plate to tow a log splitter on the highway. Fortunately, most states do not require you to have a license plate. All you need is some form of tail light or reflective strips to warn other drivers.
Can you pull a log splitter on the highway? 
In most states, you can pull a log splitter on the highway without having any legal issues. But it is best to check the laws and regulations for your state on your local DMV before you tow.