Are you looking to buy a chainsaw but don't have enough money to invest in a brand new chainsaw? Don't worry, you can simply go for a user professional chainsaw. People these days love buying second-hand products, and that practice has extended to chainsaws.
What to look for when buying a used professional chainsaw will depend on many factors. Firstly, it should suit your needs and help you perform the tasks you want to accomplish. Further, always go for a reliable brand because buying second-hand products is always risky.
Should you buy used professional chainsaws?
Before finding out what to look for when buying a user professional chainsaw, there are other questions to answer. Is it a smart option to buy used professional chainsaws? Ideally, you would be better off if you avoid purchasing a used chainsaw. This is the case because there will be no guarantee of life expectancy of the chainsaw and any components. Further, buying a used chainsaw isn't a good idea, especially if you're new to using chainsaws. Sometimes, even professionals find it troublesome to work with used chainsaws.
It is important to know that 'used' and 'second-hand' aren't the same thing. A chainsaw advertised as 'used' means that it has previously been owned by multiple owners. A second-hand chainsaw, on the other hand, has only been used by one owner previously. These chainsaws will be the better option as there is a better chance of them being in a better condition. Further, chainsaws that have been owned by owners previously would have been repaired multiple times. This doesn't always mean that the chainsaw isn't usable, it simply means that there will be uncertainty.
By purchasing a brand new chainsaw, you'll have the peace of mind that it's new and comes with a warranty. Used professional chainsaws will not give a similar peace of mind.
What to look for when buying a used professional chainsaw?
There are certain tips that you need to keep in mind when looking to buy a used professional chainsaw. Here are some of those tips that you should remember –
Define your chainsaw requirements
Similar to purchasing a brand new chainsaw, the first thing to know is if the chainsaw defines your needs. This will help you know what kind of second-hand chainsaw you need to buy. If you're looking for something light that you can use for backyard trimming, then an electric chainsaw will be perfect. An electric chainsaw would be decent as it directly runs off the main power.
If you require a tool that you can easily use far from home, a battery-operated chainsaw would work really well. A gas-powered chainsaw will be the ideal option if you're looking for powerful models that don't need a battery or electricity. Second-hand gas-powered chainsaws will be good for long working hours. You can simply keep refueling gas and continue working.
Always look for reliable brands
The next thing that you should look for when buying a used professional chainsaw is the brand and its reliability. There are several dozens of chainsaw manufacturers out there, and some of them produce unreliable chainsaws. Their tools are less reliable and struggle to stand the test of time.
Always look for reliable brands that manufacture chainsaws with high-quality material and amazing artistry. This enables the chainsaws to last longer and give extended periods of usage despite being second-hand chainsaws. Some of the names of reliable chainsaw brands include Stihl, Husqvarna, Echo, and Husky.
The used chainsaws from these brands don't lose their performance and functionality despite long-term usage.
How old is the used chainsaw
The age of the used chainsaw will also be a key defining factor in the chainsaw you're planning to buy. Most people tend to believe that the newer your chainsaw is, the better will be the condition.
However, this isn't the case all the time. The owner may have noticed a defect in their new chainsaw and decided to sell it. If you happen to be the unlucky buyer, you would end up inhering these defects.
It would be safer to go for a used professional chainsaw that has been used a few times as compared to a fairly new chainsaw that has defects.
Consider the working condition of the chainsaw
If you're looking to buy the used chainsaw locally or from a relative, you would get the chance to closely interact with them. If you're buying the chainsaw from someone you know, you'll get the opportunity to fully examine the chainsaw. You should try and examine the working condition of the chainsaw and make sure that it is working well. See how easy or difficult you find it is to start the chainsaw. If the chainsaw doesn't start on the first few pulls, it wouldn't make sense to buy a used chainsaw.
Further, you should check the chainsaw chain and chain guard condition. Look how clean it is, how smoothly it works, and if it has any issues. Then, check if the chainsaw comes with the necessary safety gear like gloves, glasses, and more. Also, you should use a flashlight and inspect the walls of the cylinder. Make sure that they are fine and not worn out.
You should then check if it is working properly and whether it requires any repairs. If it does require repairs, then get the price adjusted when negotiating the price.
If you're purchasing a used chainsaw online, doing due diligence would be essential and something you shouldn't forget. It is also important to check the oil levels and fuel tank of the chainsaw. Remember to check for potential leakage so that you can avoid any mishaps. Having a proper oil level will ensure that all the parts are lubricated sufficiently and will result in smooth functioning.
Make sure that you pay attention to the description of the chainsaw. Understand whether the seller is selling the chainsaw for its functioning parts or the entire unit. If possible, ask for the attached photos, as they'll give you more information than any description could.
Budget and how high are you willing to spend
Generally, you would expect used chainsaws to be considerably cheaper than brand new chainsaws. However, the price can vary from brand to brand and model to model depending on numerous factors. The better the quality of the chainsaw, the more it will cost.
It is also worth noting that the selling price of the chainsaw could be an indicator of the quality. If the seller has set a price way too low, it could be that the chainsaw isn't good enough. Moreover, they are likely desperate to get rid of it, and you will face problems running the chainsaw.
Where to buy used professional chainsaws?
The next question that arises is where do you purchase used professional chainsaws from. It is highly recommended that you should first check with your local dealer. Further, you should ask friends or acquaintances if they're looking to sell used chainsaws. It will be easy for you to explain your requirements to local vendors. Further, you will also be able to check out the chainsaw and examine its condition. Garage sales and yard sales in your area could also be helpful if you're looking to buy used chainsaws. Another possible way is through auctions on sites like eBay, as they'll help you find used chainsaws at reasonable prices.
Is it worth it to buy used chainsaws online?
Firstly, you should know that if you're a beginner or an inexperienced chainsaw operator, buying a used chainsaw from any place wouldn't be worth it. It is not advisable unless you have an expert with you who can examine the used chainsaw and inspect it for you. Then you could purchase the chainsaw and work under the supervision of an expert a few times. Unlike used chainsaws, new chainsaws come with a warranty period. You won't need to worry about breaking something in a new chainsaw, as you'll be able to replace it. With used professional chainsaws, there is no warranty, so it isn't something that novices should go for.
In comparison, experienced users can easily give it a try. If you have experience working with chainsaws, you'll know what to look for. However, even if you're an expert and have been dealing with chainsaws, you should still be careful. At the end of the day, it is still a chainsaw, and operating a chainsaw is risky. Always examine the chainsaw thoroughly if buying a used professional chainsaw. It would be a costly mistake if you don't examine it.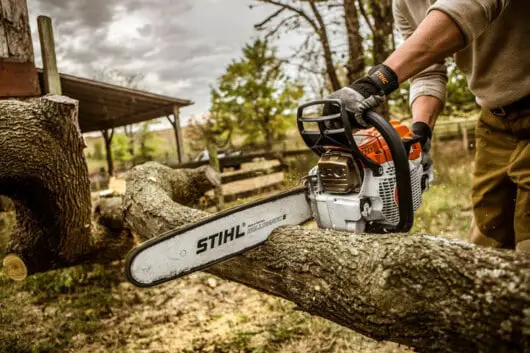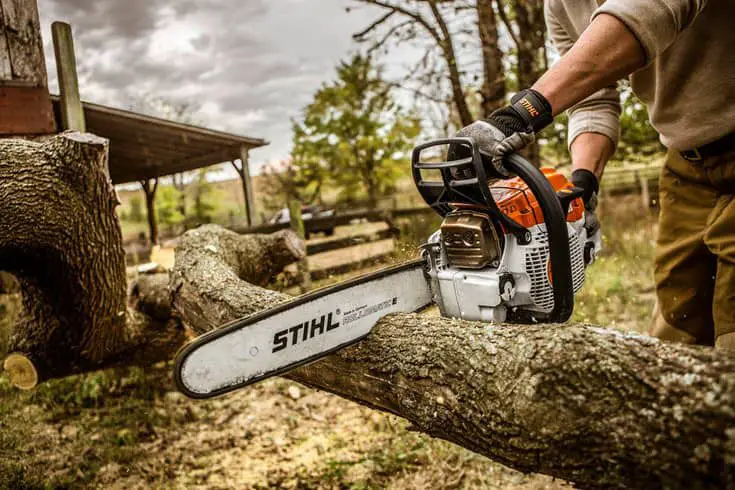 Regardless of everything, it is not a good idea to purchase a used professional chainsaw online. A chainsaw that is advertised online could be a dangerous prospect as you won't be able to properly inspect it. Moreover, you'll not be able to ensure that it works properly. Sure, you will be able to get in touch with the seller, request pictures and videos, and try to find out how it runs. However, the risk will be extremely high, and you'll never have peace of mind if the pictures are accurate. Overall, buying used chainsaws online is never a great way of buying a chainsaw.
You should totally avoid buying a used chainsaw online. Let's say you're at a garage sale, and you're able to get your hands on a decent chainsaw. You will be able to physically touch it and examine it thoroughly. In comparison, you cannot do the same with chainsaw adverts online. You won't know if you're about to make a good buy or if you'll lose money on an unreliable machine.
Conclusion
Thank you for reading. Hopefully, now you have enough information needed if you're in the market for a used professional chainsaw. Now you know what to look for when buying a used professional chainsaw, you'll be able to make better decisions. Further, you should remember to always examine the used chainsaw and go for reliable brands.