Have you recently purchased a Husqvarna chainsaw, but don't know how to get started? Don't worry, you're not alone! With its powerful engine and impressive design, the Husqvarna chainsaw is a popular choice among homeowners and professionals alike.
In this article, we'll provide step-by-step instructions on how to start a Husqvarna chainsaw, so you can get to work with confidence and safety. So let's get started – read on to find out how to start a Husqvarna chainsaw the right way!
How to Start a Husqvarna Chainsaw
Husqvarna is an exceptional brand that sells simple-to-use yet exquisite chainsaws. It is very simple to start a Husqvarna chainsaw. In fact, Husqvarna always puts the starting procedure on the back of the chainsaws, making it really easy to follow.
One of the first things that you need to understand is if you're going for a "cold" start or a "warm start". This doesn't actually depend on the weather outside. It is the temperature of your chainsaw engine. If you've used the chainsaw that day or if you've completely run out of fuel and recently re-fueled. Under such conditions, you should always follow the cold start procedure. If you have recently used the chainsaw and put it down for a while, then perform the warm start.
When talking about chainsaws, you might think that all brands and all models have the same starting procedure. However, this is incorrect. Different brands come with different starting methods. Further, they also have different instructions in terms of mixing fuel and oil in the correct amounts.
Starting a Husqvarna chainsaw will be different from starting a Stihl chainsaw. It is always recommended that you should read the instructions in the manual to ensure you're following the correct procedure. This will not only ensure your safety, but also help you make sure there is no damage to the chainsaw.
Here is how to start a Husqvarna chainsaw without any hassle.
Push the chainsaw brake forward and get it into a locked position. This will be a vital step that will save you from injuries if something goes wrong during the starting process.
Slowly place the chainsaw on the ground. Remember not to drop it, as it could result in severe injuries or worse.
Push in the compression release located on the top of the chainsaw. This will make it easier for you to pull the role as compression is being released from the engine. It will be pushed back out automatically once the chainsaw starts.
Pull the choke lever in the chainsaw to the full choke position. It automatically sets your chainsaw to the start position.
Now, simply press the fuel primer bulb 5-6 times to pull some gas into the bulb. It is worth mentioning that the build doesn't always have to be completely full.
Hold the handlebar of the chainsaw with your left hand before placing your right foot on the back handle of the chainsaw. Use your right hand for pulling the rope slowly until you start feeling the tension from the engine. As soon as you feel the tension, firmly pull the handle quickly until you hear the engine try to start. You can try and pull the starter rope beyond 12 to 15 inches. Pulling the role beyond that point could result in damaging the pull starter.
Turn off the safety choke by pushing in the choke control.
Now, press the decompression valve again.
Pull the starter handle a few more times. Do this until the engine revs up, and tap the trigger to ensure that the engine switches to idle speed.
Disengage the chain brake before you accelerate the engine. Now you're ready to start using your Husqvarna chainsaw for cutting and pruning.
Are Husqvarna Chainsaws Special and Worth the Money?
Husqvarna is one of the most reputed chainsaw brands in the market. Chainsaw users cannot question Husqvarna's integrity, as the brand has been sustaining product quality for almost three centuries. The brand has a rich heritage, dating back to the late 1600s, once it began as a weapons manufacturing brand.
Since then, the Swedish company has changed dramatically. Husqvarna manufactures all types of chainsaws, gas-powered, electric, cordless, portable, and more. With Husqvarna chainsaws, you can not only do professional tasks, but you can also do backyard jobs like cutting, pruning, tree falling, and more.
Further, the brand provides amazing customer service, making them one of the most user-friendly chainsaw manufacturers. Husqvarna chainsaws are more often than not a safe bet. They are less expensive than others, safer to use, and come with the most modern features. Husqvarna ranks among the greatest chainsaw manufacturers around the world. Generally, Husqvarna chainsaws can last between 20 and 30 years, or more if they're properly maintained.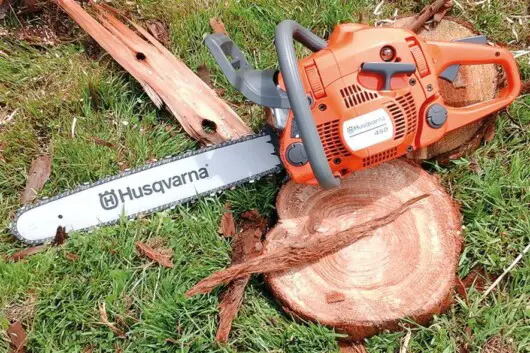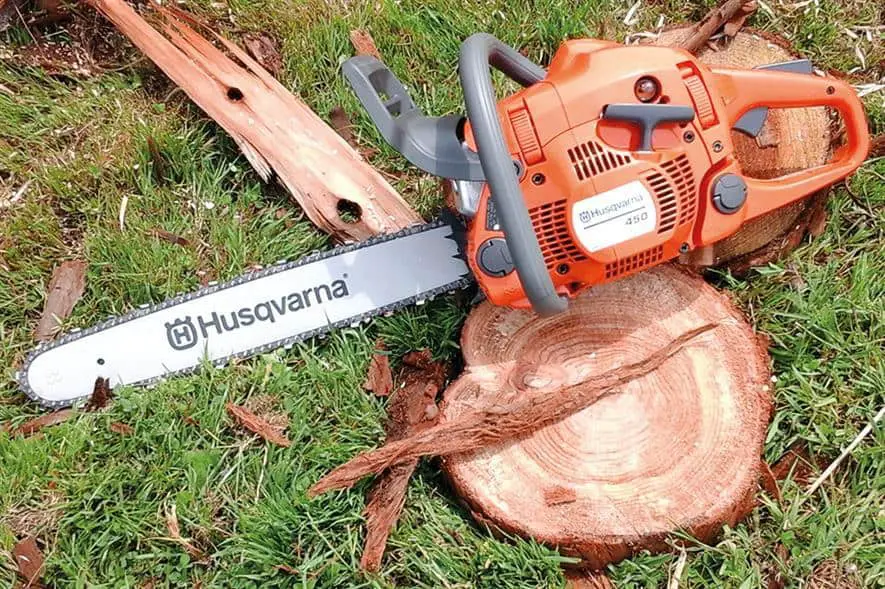 What Makes Husqvarna Chainsaws Different from Competitors
Husqvarna is one of the most popular chainsaw brands in the world. One of the brands that come closest to the stunning performances of Husqvarna chainsaws is Stihl. If someone is in the market for a new chainsaw, their minds always go to either Husqvarna or Stihl. The two will help you do a variety of tasks from cutting down trees to trimming the bushes and more.
However, Husqvarna is something special and very different from its competitors. Despite being one of the best in the market, Stihl often struggles to match the overall performance of Husqvarna. Here are some of the ways Husqvarna is different and superior to competitors like Stihl.
Environmental-friendly
One of the benefits of Husqvarna chainsaws over Stihl chainsaws is that they feature better fuel capacity and reduced emissions. This makes Husqvarna chainsaws a better choice for users who want to be environmentally conscious. The increased fuel efficiency will reduce the time spent refilling the fuel tank while lowering the cost of fuel.
Safety
Both chainsaw brands have come a long way and developed many safety features for their chainsaws. Both of them have chain brake systems capable of stopping the saw instantly in case of a sudden kickback situation. Both will include all-in-one switches, with the Husqvarna manual shut-off being an incredibly easy thumb-down motion. Stihl chainsaws will require you to push the thumb upward for shutting off, making it less of an organic movement.
The down vs up motion here will make the difference. The extra effort and the fraction of a second needed could be the difference between an accident and prevention. This will be pivotal, especially when dealing with 9,000 RPM, which can cause a lot of damage in a dangerous situation.
Large fuel tanks
A fuel tank is one of the key features of a chainsaw. Husqvarna chainsaws come with larger fuel tanks as compared to competitors including Stihl. Due to this difference, when a Husqvarna chainsaw is fully fueled and ready to be used, it'll weigh slightly more than a Stihl chainsaw. While Husqvarna chainsaws weigh slightly more, the large fuel tank will mean that your chainsaw runs longer and the fuel lasts longer than other chainsaws.
Torque
The torque in the chainsaw is important for understanding the type of wood useful for cutting. Stihl chainsaws feature a powerful low-end torque, allowing them to cut through tough wood. Husqvarna chainsaws, on the other hand, might not have the same torque, but their torque is more powerful. This will improve cutting speed and efficiency to help you make clean cuts.
Handling
The best way of knowing how a chainsaw's handling feels is to handle it yourself. However, the general consensus from Stihl and Husqvarna users is that Husqvarna chainsaws feel better for handling. These will come with better anti-vibration, cleaner cuts, larger gas tanks for longer use, better self-lubrication, and more.
You can replace the bumper spikes cheaply and easily. It means that cumulative ease of daily use will put handling in Husqvarna's favor.
Durability
Stihl chainsaws display the excellence of German manufacturing and reportedly lasts for multiple decades if maintained well. However, Stihl chainsaws only come with a 1-2 year warranty across their models. Husqvarna chainsaws, on the other hand, come with a warranty of up to 4-5 years. Further, they will run well for 20-30 years, or more if maintained well.
Additionally, most regular homeowners who buy a chainsaw are unlikely to care for their chainsaws as well as professionals. In case your chainsaw breaks after a few years, Husqvarna will be more likely to be under warranty. Stihl will cost you a lot of money to repair or replace different parts. With Husqvarna chainsaws are cheaper and have a longer warranty life, they are the better option in the long term.
Anti-vibration system
Both Stihl and Husqvarna have invested a lot of time and money into developing anti-vibration technologies for extended use. Stihl chainsaws feature a shock-resistant handle feature, while the Husqvarna chainsaws come with the patented Low-Vib technology incorporated.
The general consensus indicates that while both Stihl and Husqvarna are capable of extended use, the Low-Vib technology in the ladder will result in smoother use.
FAQs
What is the function of the top button in a Husqvarna chainsaw?
During the starting phase, a decompression valve will relieve a part of the compression in the combustion chamber, which makes the engine simpler to turn over when drawing the recoil rope.
Why does your Husqvarna chainsaw fill up with water?
This is a sign that the unit is flooding, and it can be caused by faulty starting techniques, caused by old or inappropriate gasoline, a damaged engine, or ignition failure.
How many pulls will it take to start a chainsaw?
When the choke is in the "off" position, you should pull the engine's crank cord through again. The engine will start in 2–3 tries. First, you should try it via the throttle control unless it is recommended by the manufacturer.
Is it necessary to start your chainsaw with the brake on?
You should start your chainsaw with the chain brake engaged for making sure that the chain doesn't move.
Conclusion
Thank you for reading. Hopefully, now you know a lot more about Husqvarna chainsaws and how to start a Husqvarna chainsaw. Different brands come with different procedures to start the chainsaw. When starting a chainsaw, remember to read the user manual before you begin the process. It is fairly easy to start a Husqvarna chainsaw. The step-by-step instructions mentioned above will make it incredibly simple for you to start the chainsaw.
Moreover, you should always remember that a chainsaw is incredibly dangerous to start and operate. Always prioritize your safety and wear the necessary safety equipment before handling a chainsaw. Using Husqvarna chainsaws, you'll be able to get your cutting, pruning, and other backyard tasks with ease.