Have you ever felt you're wearing oversized chainsaw chaps? This is an issue that many chainsaw users face, but it can be easily fixed.
Chainsaw chaps can be sized up and fitted according to your body measurements. It is very easy, and you can easily do it by yourself. Once you have the right-sized chainsaw chaps, you will have better protection against chainsaw accidents.
How to size chainsaw chaps for household users?
Chainsaw chaps are used to refer to a type of safety equipment that needs to be worn by chainsaw users. Chainsaw chaps will help you protect your legs and should be constructed from cut-resistant material. Leg protection worn will easily cover the full length of the thighs till the top of the boot on both legs. This will help you protect against coming in contact with a moving chainsaw.
Chainsaw chaps will easily fit over pants or jeans to protect your legs. They're made using thick material designed for slowing down the chainsaw chain. This will be crucial as the chainsaw will come in contact with your legs but not result in any injuries. You will have more time to react and avoid injuries. This kind of protection will reduce the severity of injuries or help you avoid one altogether. A casual chainsaw user can easily size the chainsaw chaps by using the following steps –
Stand straight on a plane, level ground
Place the tip of your measuring tape touching the ground next to one of the legs.
Stretch the measuring tape up to your waist on the pants and have someone read the measurement. This will be the length of chainsaw chaps that you should order. You can always round off odd measurements to the next even number.
How to size chainsaw chaps for workers?
If your chainsaw chaps have the right size, you'll feel extremely comfortable in them. Chainsaw chaps need to be measured from the belt loop to the bottom area. However, if you have an idea of the outseam length, choosing the right chap will be easier. Many manufacturers offer their chainsaw chaps in varied outseam lengths, which range from 32 to 40 inches. So, how do you measure the chainsaw chaps properly?
Here is how you can measure chainsaw chaps for half-length ones –
Measure around the calf by sitting down with your feet on the ground. You should measure the widest part of the calf using a tape measure.
Then, measure the height of your chainsaw chaps. This should be done from the ankle to the kneecap. If you've taken the measurement correctly, you will be able to bend your legs comfortably. Further, you will have a better range of motion.
Here is how you can measure chainsaw chaps for full-length ones –
Take the thigh measurements by measuring around the biggest area of your thighs while wearing trousers or jeans. This would be around 2-4 inches under the area your thigh bends.
Measure both the thighs and then add 1-2 inches to that figure.
Select the chaps based on the measurement you've deduced above. However, remember to get an inch larger for a better tauter fit or two inches bigger for a looser fit.
If you don't want the chainsaw chaps to hang over your heels, you should have them cut to the best possible length. Then, sit down and then take the best measurements for ensuring that your chainsaw chaps don't get cut too short.
Important things to know about when using chainsaw chaps
Chainsaw chaps play a pivotal role when it comes to your safety and prevention of fatal injuries. In case you accidentally drop the chainsaw, the layers within the chainsaw chaps will offer your limbs maximum protection. Further, chainsaw chaps will also protect your legs from sharp, flying splinters. Chainsaw chaps are far safer than a standard pair of jeans. Chaps are designed for slowing down the rotation speed of the chainsaw and subsequently reducing the risk of injuries. They are capable of stopping a chainsaw running at speeds of 2,750 to 3,200 feet per minute.
Here are some of the important points you should keep in mind when working with chainsaw chaps.
Type of fabric
The chainsaw chaps are manufactured using construction materials like a rugged shell of denier polyester treated with a water-resistant coating. The fabrics used also include Kevlar, ballistic nylon, or Tek warp. The fabrics are categorized into three classes, which define the number of resistance of fabrics against the chainsaws. You should focus on fabrics as they'll offer the most resistance and maximum leg protection.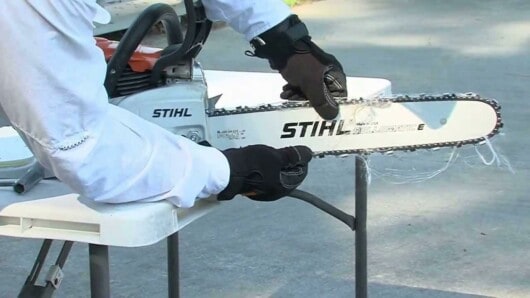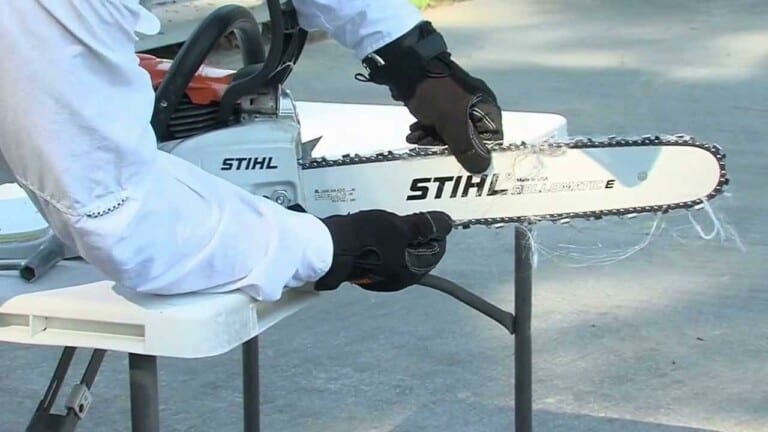 Kind of chaps
You can choose from Type A or Type C chap. The Type A chaps protect the front area of the leg. Meanwhile, Type C chaps come with a front and back, covering the entire leg, and are commonly referred to as chainsaw trousers.
Outer layer
The outer surface of the chainsaw chaps is the primary protective layer. A great chainsaw chaps option will come with a smooth, super strong outer layer. This layer should be capable of withstanding the chainsaw's impact and damage from oils and liquids.
Flexible and comfortable
The chainsaw users need to feel comfortable and be able to move freely when wearing the chaps. You should try on the chaps and feel the comfort. If you cannot move freely or feel hot, go for another option.
Resistance to water and oil
If your chainsaw chaps are oil-proof and waterproof, they'll be easier to wipe and keep clean. Besides, the protective clothing will also keep you dry when working out in rainy weather.
How to choose the best chainsaw chaps?
During intense cutting and pruning sessions in your backyard, forest, or construction sites, chainsaw chaps will protect you from injuries. Selecting the right chainsaw chaps will depend upon many factors like the materials used, moisture resistance, and more. Some of the best options in the market come with strong polyester and Armortex, Avertic Engtex, Kevlar, and Tek warp materials. Many of them even come with water, gas, dirt, and oil-resistant PVC coating. Further, you should keep your comfort in mind, as waist sizes range from 28 inches to 44 inches.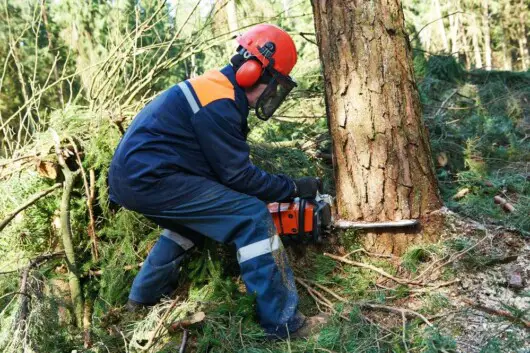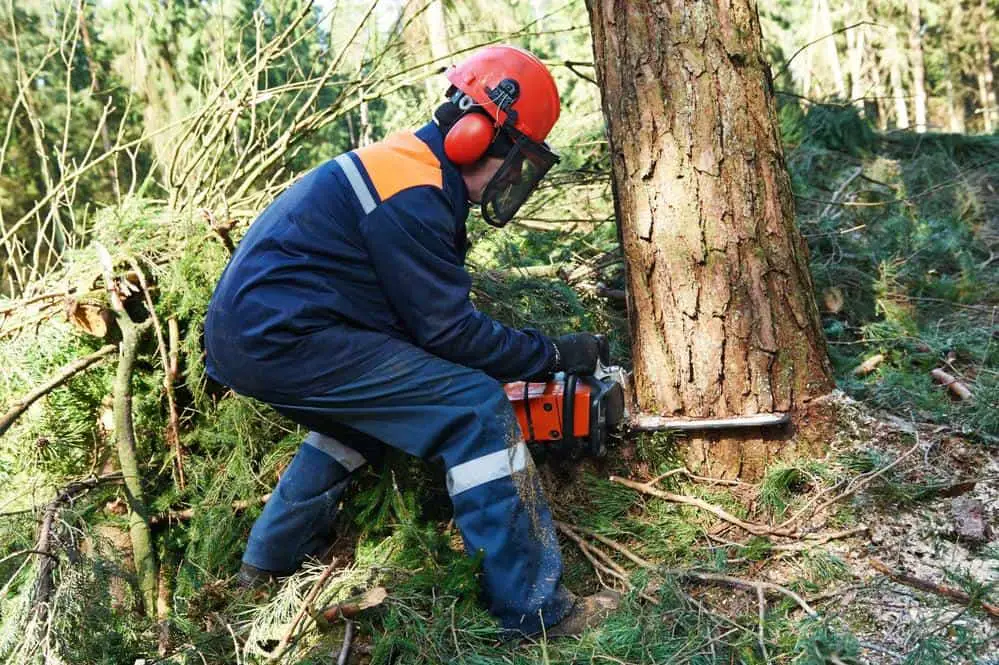 Adjustability and length are also considerations, as your chainsaw chaps should offer partial or full-leg coverage, wraparound designs, or adjustable waist straps. Here are some of the factors that will help you decide your next chainsaw chaps purchase.
1. Standard for chainsaw chaps
While this isn't a must to have in your chainsaw, a standard pair of chaps should abide by the chainsaw mechanism. You should read the label, as it'll let you know if the chainsaw meets the principles needed for the job. There is a standard for testing chaps, ASTM F 1414-92A (1997) and another one for the performance – ASTM F 1897-2008. There is also a certification program undertaken by the Underwriters Laboratories and the specifications by the US Forest Service – 6170-4F.
2. Approval for leg protection
Chainsaw chaps need to conform to the rules and regulations put forth by chainsaw safety and leg protection organizations. Some of the organizations that provide these standards include OSHA (Occupational Safety and Health Administration), ANSI (American National Standards Institute), and ASTM International Safety and Security Standards.
3. The chap's ability during gas-chainsaw operations
According to OSHA, each chainsaw worker needs to wear leg protection like chainsaw chaps. The purpose of these chaps is to reduce the degree of injuries should an accident happen. Depending on the chainsaw, a decent pair of chaps is capable of stopping a chainsaw running at 4,000 feet/minute. As they're able to stop the chain from immediately injuring you, you'll have the chance to respond by moving away.
4. Suitability for electric chainsaw operations
There aren't many chaps that come for use with electric chainsaws. These tend to have higher torque and put up different kinds of hazards as compared to gas-powered chainsaws. It isn't the smartest idea to use chainsaw chaps with an electric chainsaw.
5. Suitability for other tasks
Protecting the chainsaw user's body when working with a chainsaw is the primary task of the chaps. However, many users also use chainsaw chaps for purposes like cutting firewood, gardening, and more.
6. Maintenance for chaps
Chainsaw chaps are very tricky to handle. While they are durable and sturdy, they are equally fragile if you don't clean them and maintain them. Not taking proper maintenance of the chainsaw chaps will render them worn out very quickly. You will need to make sure that your chaps don't have any small cuts or hidden holes in them. If you find any, quickly repair them at once. Avoid wearing damaged chaps as it is a recipe for disaster.
You should also clean your chainsaw chaps regularly. Simply wash them dry using hands and then hang them in the sunlight to dry. However, you should remember that some manufacturers provide a technique for washing, follow it. Further, if there is any specific commercial detergent mentioned, only use that.
Conclusion
Thank you for reading. Hopefully, now you have the answers to how to size chainsaw chaps. The methods are almost similar whether you're measuring for home use or for workers. But having the right measurements and going for the best option will be pivotal. Wearing a perfectly sized pair of chainsaw chaps is essential. It can easily be the difference between a scratch and a fatal injury. The chainsaw chaps will shield your legs from any potential accidents that could leave you badly injured. Don't be careless and unwise, always use a pair of chainsaw chaps whenever using a chainsaw.