Feeling trapped in the world of fabrics and PPEs and not able to figure out how do chainsaw chaps work? Don't worry, we've got you covered. By the end of this article, you'll know all about how do chainsaw chaps work. Further, you'll also feel be in a confident position to purchase the right one for your next task.
Chainsaw chaps work by protecting your legs against potential chainsaw-related accidents. Chainsaws are incredibly dangerous tools, and the protective layers of the chaps protect your legs from contacting the chain. Wearing a pair of chainsaw chaps could be the difference between a slight graze and a fatal accident.
How do chainsaw chaps work?
Whether you're a beginner or a seasoned professional, chainsaws are incredibly dangerous and tricky to operate. One slight mistake or loss of balance could result in an injury. In fact, there are more than 36,000 chainsaw-related injuries reported in the USA alone.
Wearing proper protective gear or a PPE kit could go a long way in reducing the consequences of injuries. The standard PPE kit includes gear like safety gloves, ear protection, a helmet, a thick jacket, steel-toed boots, and chainsaw chaps.
Chainsaw chaps are made using strong, cut-resistant materials like nylon and Kevlar. When the chainsaw hits the chaps, these long fibers will get stuck in the chain and stop the chain rotation. The fibers will jam in the chainsaw chain and give you enough time to move away from the danger. It all happens so quickly that the chainsaw will stop before the chain even reaches your skin. This greatly helps in protecting your legs from potential cuts or worse.
Half chainsaw chaps are very sturdy protective coverings for your legs. These consist of leggings and a belt. They're buckled on your standard jeans with the integrated belt but unlike jeans, they'll have no seal and aren't joined at the crotch. The name "chaps" is the short version of the word "Chaparreras". Chaparreras is a Spanish word, which means thorny, thick, low brush. In the past, they were designed for protecting the legs when riding on horseback.
OSHA states that all employers should provide chainsaw chaps to the employees at all costs. They need to assure that each employee who is operating a chainsaw is wearing proper leg protection. The leg protection must be constructed with cut-retardant material like ballistic nylon or Kevlar. The chainsaw chaps should also cover the full length of the thighs till the top of the boots on each leg. These chaps will protect your legs against coming in contact with a moving chainsaw. The chaps won't apply when an employee is working as a climber. When an employee is working with a rotating work platform or a vehicular-mounted elevation, chaps won't be of any use.
Pros and cons of using chainsaw chaps
Pros
Adjustable belt – Chainsaw chaps come with an adjustable belt, making them suitable for users of varying waist sizes.
Quick to put on – You can easily put on and take off the chainsaw chaps within a matter of seconds.
Water and oil repellent – Chainsaw chaps are made using materials that make them oil and water-repellent. It makes the chainsaw chaps a great option for working during the rainy and snowy season. Further, they will keep you dry even if you're working nearby a waterfall, pond, or lake.
Open back design – Chainsaw chaps come with an open-back design such that they're ideal for hot summers as they won't get sweaty easily.
Vibrant colors – Chainsaw chaps come in many colors, as they're quite vibrant like a highlighter. Further, they can be easily spotted even in dim light conditions.
Cons
Not for any other activities – Chainsaw chaps cannot be used by farmers, tree surgeons, or arboriculturists who need to climb on elevated or rotating platforms. For such activities, you'll need to take them off as the buckles can easily get in the way. You won't be able to climb the platform.
Factors to remember when buying your first pair of chainsaw chaps
When buying your first pair of chainsaw chaps, there are certain factors that you need to keep in mind.
1. Size
The size of your chainsaw chaps will be critical. The chaps should be big enough that you can easily move around and feel comfortable when working. Further, they need to give seamless movement and a broad range of angles.
One thing that you should remember is that the risk doesn't come from the chainsaw alone. You will also have to escape from falling trees and branches. In such a situation, extremely tight chaps will be more harmful than the chainsaw.
The length and weight of the chainsaw chaps will be equally important. It shouldn't be too heavy to cause hindrance or too tight to keep slipping off. The comfort of the chainsaw user should be a factor as well.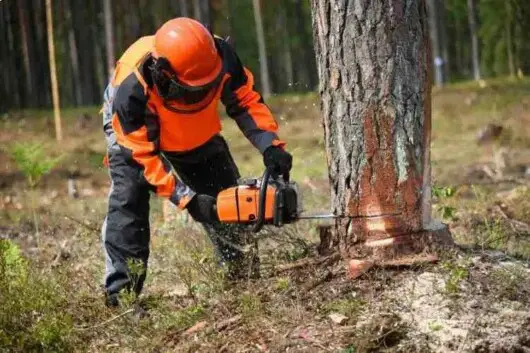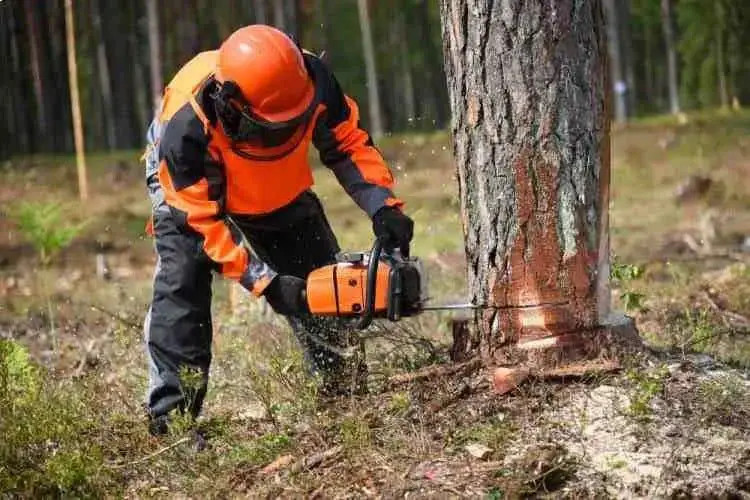 The task of operating the chainsaw in the woods can be quite taxing, so you shouldn't add the element of feeling uncomfortable. Ensure that your chainsaw chaps are light and breathable. Choosing chaps that aren't breathable could make hot days extremely unbearable. An open chainsaw chap will make tasks a lot more comfortable and easier, especially on sunny days. Maximum possible comfort should be one of your first priorities when it comes to chainsaw chaps. When looking for a high-quality pair of chaps, choose a brand that is comfortable and helps you move with ease.
Make sure that you're picking a size that is adjustable and has pockets. Further, make sure that the pockets are strong enough to accommodate the tools and accessories needed for the task.
2. Different types of chainsaw chaps
There are five types of chainsaw chaps available in the market. It is important to know the different types of chainsaw chaps and which ones meet your demands.
Type A – When you're spending time looking for chainsaw chaps, you'll notice that chaps are sorted into Type A or Type C. Type A chaps are the most commonly used option and the fabric only covers the front portion of your legs. The straps that go around the back will secure them in place.
Type C – Type C chaps, while they aren't that protective, they're still designed to resemble full pants. This is the case regardless of whether or not you're wearing standard pants already. These will not provide a wide range of protection features that Type C chaps offer. Further, they are bulkier and heavier.
Kevlar chaps – You might recognize the word "Kevlar" from bulletproof vests, this is the same Kevlar used with chainsaw chaps. It is the kind of synthetic material 5x stronger than steel while also being incredibly lightweight.
Leather chainsaw chaps – Leather perfectly fits the classic image of chainsaw chaps, and it is suitable for wearing when you're working with chainsaws. Always choose synthetic fibers when you're looking to buy chainsaw chaps. These will be helpful as they'll bind up your chainsaw chain and stop it from running.
Full wrap chainsaw chaps – Full wrap chainsaw chains are essentially another name of "Type C" chaps. They're the chaps that will wrap all the way around the leg, as the name suggests. Some full wrap chaps only wrap around the calves and not the upper parts of your legs.
3. Affordability
You should always choose the chainsaw chaps according to your pocket's size, which means something that you can afford. It is pointless to go out of the way to buy a pair of chainsaw chaps that you cannot afford.
4. Material
Chainsaw chaps will come in different materials or even a fusion of different materials. The materials will provide enough comfort and security to the legs. The common materials used for the production of chainsaw chaps include Denier, Polyester, Ballistic nylon, and Kevlar. Chainsaw chaps of each material will be available at different prices, as they offer the level of protection that varies.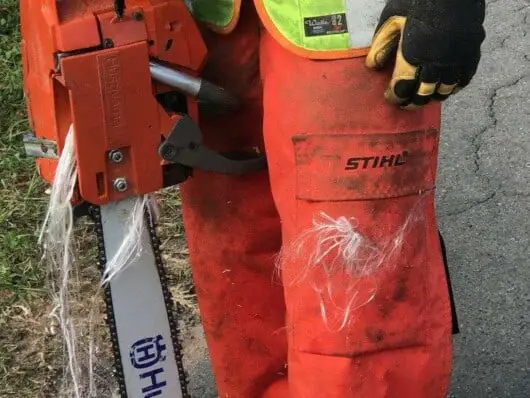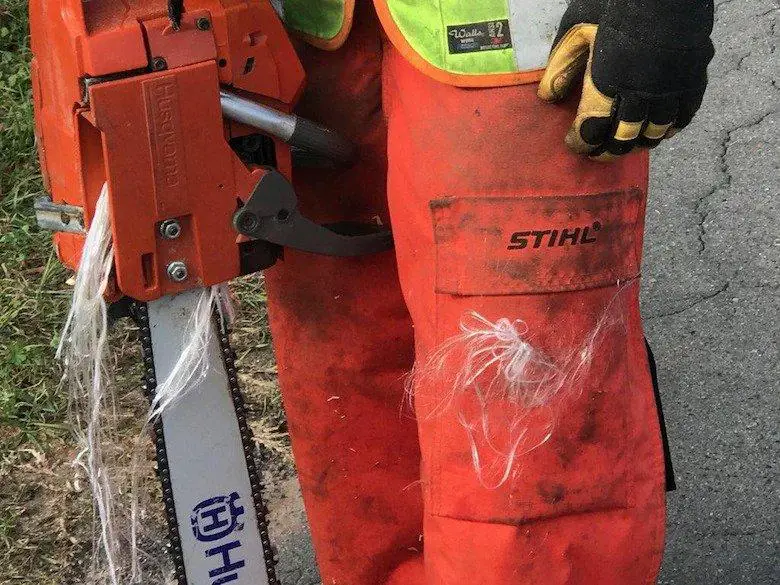 Denier and Polyester are two of the most common, non-washable materials and are incredibly comfortable to use. Washing chainsaw chaps in the wrong way can potentially destroy fabrics. It is essential to purchase chainsaw chaps with materials that will end up lasting for a long time.
5. Safety and protection quotient
Chainsaw chaps, at their core, should have safety as their top priority. Always consider the safety quotient of your chaps when you're in the market for a new one. These chaps are made using tightly packed fibers. If a chainsaw cuts into your chaps, the strong fibers will not break. Hence, your skin will not come in contact with your chainsaw. Instead, the fibers will get pulled into your chainsaw chain and jam the turning wheel sprockets. This stops the rotation of the chainsaw.
When buying chainsaw chaps, also ensure that you buy buckles to keep your chaps snug. They will need to cover the full length of your thighs to 2-3 inches below the top of your boots.
6. Easy to wash and store
Your chainsaw chaps should be easy to wash and store. Remember that your chaps will struggle to have a long lifespan if you don't maintain them properly. Further, your chainsaw chaps may end up getting worn out way before expected. The user manual will have all the instructions to wash and store your chainsaw chaps.
Conclusion
Thanks for reading. Hopefully, now you have a better insight into how do chainsaw chaps work and everything to remember when buying one. Chainsaw chaps are essential when it comes to operating chainsaws. Even a little miscalculation and carelessness could end up resulting in an injury if you're not wearing the important safety gear. After knowing how do chainsaw chaps work and their importance, go ahead and get your first pair. This is the right time to invest time and money and purchase the right pair of chaps for your needs.