Are you in need of purchasing a new chainsaw, but first you want to know how much does one cost? If yes, then you are definitely in the right place.
How much does chainsaw cost is a question that every beginner chainsaw user has before starting out. The best chainsaws offer ultimate power and exceptional performance levels, making cutting through the toughest materials a breeze. An average gas-powered chainsaw will cost you between $200 and $400 while an average electric chainsaw can cost you anywhere around $100 to $250. An extensive power-loaded chainsaw can easily cost you upwards of $1,000. However, a cheap, low-powered that can be used daily could be found for less than $100 at retail price.
In this article, you will get to know all about the cost of chainsaws, how much does chainsaw cost, what to look for when buying a new chainsaw, and more. Continue reading to get all the answers that you are looking for.
Average cost of reliable chainsaws for beginners
The best chainsaws will offer you ultimate power and make cutting through the toughest wood a breeze. Whatever your needs, you can easily find a chainsaw that suits you. However, you will need to remember the key considerations, including size, power, safety features, and price, so that you can find the right machine for you. There are numerous reliable models from top brands like Makita, STIHL, Husqvarna, and more.
An average fuel-operated chainsaw can cost around $200 to $400 while an average electric chainsaw can cost between $100 and $250. An extensive power-loaded saw can cost $1,000 or more. Meanwhile, a cheap low-powered saw that has day-to-day use can come in at less than $100 at retail price.
Chainsaws come in different shapes and sizes. There are many factors that play a key role in determining its price, such as weight, power, durability, bar length, whether it is electric or gas operated, and more.
How much does chainsaw cost for beginners
There are different types of chainsaws, and they all have different price points. Here are the different kinds of chainsaws and their price ranges.
Battery-powered chainsaws
Battery-powered chainsaws are becoming an evolving and more popular kind of chainsaw. Many battery-powered chainsaws are capable of performing just as well if not better than their gas-powered counterparts.
If you are willing to spend the money on a high-end battery-powered chainsaw, you will get everything that you wished for and more. Depending on the quality, a battery-powered chainsaw will range from $250 to $1,000+.
Gas-powered chainsaws
Gas-powered chainsaws are easy to use, and they're powered by gas. They are designed for simple tree work around the house or backyard. Based on how frequently and extensively you use your chainsaw will definitely impact the quality and price of the gas-powered chainsaw you choose.
If you're looking for occasional chainsaw use, you should expect to spend at least $200 per chainsaw. For more extensive use and high-end features, you can expend to spend around $400.
Farm and Ranch chainsaws
As the name suggests, Farm and Ranch chainsaws should be used on farms and ranches.
These chainsaws are slightly more heavy-duty considering the fact that they require longer run times, and they are helpful for larger projects. Farm and Ranch chainsaws will vary in price and range between $350 and $600.
Professional chainsaws
Are you looking for long-running, extensive daily use, and powerful chainsaws? If so, then you need to go pro.
These types of chainsaws are made for extreme projects. They are among the most powerful chainsaws that you can purchase on the market. If you're looking for a professional chainsaw, you should expect to pay quite a hefty price, ranging from $600 to $2000+ depending on the model of your choosing.
Electric chainsaws
Electric chainsaws aren't the most powerful while cords aren't the most popular, but going electric is still a great option.
Currently, there are four different types of electric saws with prices ranging from $200 to $500. These machines are lightweight, easy to use, and great for simple jobs like pruning and trimming.
In-tree chainsaws
In-tree cutting takes a special kind of chainsaw and a special kind of worker. These machines can exclusively be used by professionals as they're lightweight and incredibly powerful, which makes working at a height a breeze.
In-tree chainsaws come at a price between $500 and $700, having a balanced design and a top handle for greater control.
Rescue chainsaws
Rescue chainsaws are specifically designed for rescue operations of any kind, be it fire, rescue, or emergency personnel. Unless you're a firefighter, you will not be needing a rescue chainsaw. The retail price of these chainsaws starts at around $1,200 per chainsaw.
How much does a gas-powered chainsaw cost?
Depending on the power source, there is a significant difference between the type of chainsaw. The primary factor that differentiates a gas-powered chainsaw from other types of chainsaws is its motor engine, which requires a specific gas-to-oil ratio.
A decent gas-operated chainsaw can cost you around $349. One of the best examples is a STIHL ms180 with a 32cc engine and a 12-inch bar length. Another one is Husqvarna 135, a great medium-duty chainsaw fit for homeowners that cost $240.
How much does an electric chainsaw cost?
An electric-powered chainsaw is best for homeowners since they are low maintenance, carries low noise, and requires no extensive mechanical handwork included like mixing oils. They're usually small in size and have got smaller engines.
A cheap electric chainsaw for small usage could cost up to $105 with a particular example being the IMOUMLIVE brushless with a 6-inch bar powered by a 21V battery. A high-quality electric chainsaw costs up to $199, such as the WORX wg384, which comes with a 14-inch bar and two 40V Li-ion batteries.
Another electric chainsaw worth investing in would be the Dewalt flex volt brushless. This chainsaw comes with a 16-inch bar length, two 60V batteries, and a 3-year warranty.
How much does a battery-powered chainsaw cost?
With no cord limitations and ease of carrying around, battery-powered chainsaws are evolving more and more. Depending on power and quality, a battery-operated chainsaw could cost you between $250 and $1000.
A great option would be the EGO 56V chainsaw. At just $270, the chainsaw comes with a 2.5Ah battery and a 14-inch bar, which makes it no less than a bargain.
How much do Stihl chainsaws cost?
Stihl is among the most renowned names in the chainsaw market and the brand offers a wide variety among six different categories – battery, homeowner, electric, professional, in-tree, and farm & ranch. All these categories offer different price ranges –
Battery chainsaw – $250 – $1,000+
Homeowner chainsaw – $200 – $350+ 
Electric chainsaw – $200 – $500
Professional chainsaw – $600 – $2,000+
In-tree chainsaw – $500 – $700
Farm & Ranch chainsaw – $350 – $600+
How much do Husqvarna chainsaws cost?
One of the top names in the chainsaw market, Husqvarna offers chainsaws in five categories – battery, gas, residential, professional, and top handle. These categories come in different price ranges too.
The lowest option costs around $299.99, and it is a 120i, a 14-inch battery-operated saw with a Li-ion battery, extremely lightweight, and easy to use.
For efficient results, you must use a gas-powered Husqvarna 450 rancher. It costs around $430 and has a chain length of 20 inches, 3.2 horsepower, and 50cc displacement.
A heavy-duty 390 XP W comes with a 36-inch bar length and a 13,000 RPM motor, and costs around $1,399.99.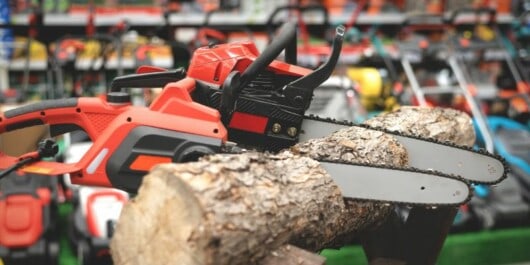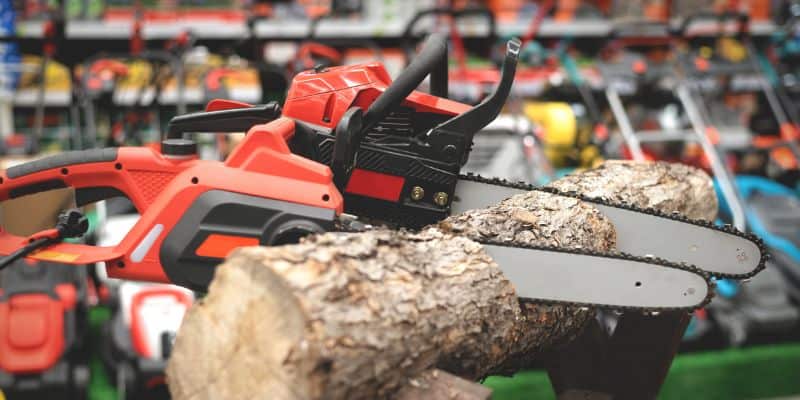 How much do Echo chainsaws cost?
Japanese-based Echo chainsaws are always one of the top options in the chainsaw market. They offer two categories – chainsaw and top-handle. Top-handle is the more lightweight one but not light in terms of performance compared to its competitor. All of these chainsaws come in a combined range of $220 to $1,100.
At $219.99, you can get a CS-310, which has a 30.5cc professional-graded two-stroke engine, a 14-inch bar, and an i-30 starting system. For a more high-end performance, you can get a CS-7310PW, which ranges from $1049.99 to $1079.99 depending on the chosen bar lengths, 20, 24, 28, and 32, making it a professional heavy-duty saw for field professionals.
How much do Greenworks chainsaws cost?
Greenworks offers exceptional chainsaws starting at $80 and going all the way up to $400. With such low prices, this brand provides quite a variety. From corded to cordless options, you can find multiple options that cater to your needs.
Model 2000102-24V cordless mini chainsaw comes at a price of $79.99 with a 10-inch bar, a Li-ion battery, and a three-year warranty. Another option is the Model 20332, which is a 14.5 MP corded 18-inch chainsaw that comes with an automatic oiler, an 18-inch bar, and a 3-year warranty at $99.99.
How much do Poulan Pro chainsaws cost?
Poulan Pro is another extremely popular brand known for its heavy-duty, heavy-weight, low-emission chainsaws. The brand offers a wide variety of all three types of chainsaws – gas, electricity, and battery, beginning at $250.
The heavy-duty, well-known Poulan Pro 5020 costs $297 and has a 50cc engine, a 20-inch chain, and a 2-year warranty. Another great option is the PL3314, which is a 33cc, 2-cycle stroke engine, and a 14-inch bar that comes at around $150. It is perfect and lightweight for homeowners.
What to look for when buying a new chainsaw
Motor
There are three basic types of chainsaws – electric, gas, and battery-operated.
Electric motors come rated in amps. Light-duty electric chainsaws start at 8 amps, but more robust options start between 12 and 15 amps. Unless you've got basic trimming tasks to complete, you will likely want to go for an electric chainsaw with amps at the higher end of this range.
Meanwhile, gasoline engines are commonly categorized in ccs, but you will occasionally see them rated by horsepower. There are chainsaws with anywhere from 25cc to 80cc or more if you go for the professional models.
Battery-operated chainsaws skip the motor and engine ratings. Instead, the power of the engine is measured in volts. Many models are available with 18 to 40V, but a few can stretch the power up to 80V or more.
Bar length
The chainsaw bar is sometimes referred to as the blade, while serving as the guide for the chain. Bar lengths vary significantly in different models of chainsaws and range between 8 inches and 30 inches.
The shorter the bar length, the easier the chainsaw will be to handle, but it'll also reduce the chainsaw's cutting capabilities as the bar must be 1–2 inches longer than the wood you're cutting to avoid kickback.
A bar length of 14-inches or less will be sufficient when looking for a chainsaw for overage homeowner usage. If you've got something more than an average task to tackle, you will need to look for a more capable model with 14–18 inches of bar length. Heavy-duty chainsaws come with a bar length of 18–24 inches, while professional chainsaws stretch the bar length to 30 inches.
Auto-oiling
For maximum safety and maximum performance, you must oil your chainsaw blade regularly. If you fail to do this, the blade might become dull rapidly, but the friction heat could cause the nose of the chainsaw to warp.
Today, many chainsaws come with an automatic oiler that saves the operator time while ensuring that the chainsaw remains in optimal working condition. Automatic oilers are available with both fixed flow and adjustable flow. A fixed-flow oiler can distribute a consistent, steady flow of oil to the chain.
Meanwhile, an adjustable flow oiling system will mean that the operator can adjust the setting of the oiler to release more/less oil. This adjustable system might be good when placing significant strain on the chainsaw, such as when cutting harder wood.
FAQs
What are the best cheap chainsaws for beginners?
If you're a beginner, there are brands like Husqvarna, Stihl, Greenworks, etc. that offer wonderful options. Some of the best options include Ryobi P546 Chainsaw, Husqvarna 120 Mark II, Greenworks 40V Cordless Chainsaw, Poulan Pro PR4218, and Dewalt 20V Max XR.
What is the average age of a chainsaw?
The average age of a chainsaw comes down to a variety of factors like power, weight, price, capacity, and maintenance. With that said, you can expect a high-quality chainsaw to last at least 10 years or more. If you take good care of your chainsaw, there are chances your chainsaw could easily last 20 to 30 years or even longer.
Are gas-powered chainsaws better or battery-powered chainsaws?
If you're looking for something smaller and easier to carry, electric chainsaws are the better option, but most of them lack the power and stamina to cut down large trees. If you have to cut big trees into firewood, a gas-powered chainsaw would be the better option.
Can you use a chainsaw without training?
It is important that anyone who uses a chainsaw at work must have received adequate training and be competent enough to use a chainsaw for the type of work that they need to do. Having proper training will not only allow you to cut wood safely, but it'll also allow you to do it more efficiently.