Are you looking to start using a chainsaw, but first want to find out what all can you use it for? If yes, then this is definitely the right place for you to be.
What is a chainsaw used for is a common question that most new chainsaw users have. A modern chainsaw is one of the most beneficial tools in not just backyards, but also in the forestry and logging industry. With a chainsaw, you can easily use it for cutting down trees & branches, turning logs into limber, chopping firewood, and more. Further, chainsaws can also be used in your DIY backyard and gardening projects.
In this article, you will get to learn all about chainsaws, what is chainsaw used for, how to carry out maintenance of your new chainsaw, and more. Stick around to get all the answers that you are looking for.
The wonders of a modern chainsaw
Like humans and animals, you can say that chainsaws have also undergone a lot of evolution. History has documented that the chainsaw was invented as a tool used in the medical field for operation during childbirth. The concept and ideas were a bit similar to the models in the market today. However, the old models were bigger and a lot less dangerous than today's tools.
At the start of the 20th century, people began thinking of other uses for the chainsaw. In 1926, the first-ever electric chainsaw was developed. In contrast to today's tools, these chainsaws were pretty large and needed two people to carry out the cutting tasks.
The modern chainsaw has proven to be one of the most effective and beneficial tools in the forestry and logging industry. Chainsaws are portable machines that make use of metal bars of varying lengths to guide a toothed chain in a circular motion to cut through wood.
Buying a chainsaw might seem like a daunting task for homeowners or a professional just starting out. However, once you know what is a chainsaw used for and what it is capable of, you will definitely want to purchase one.
Different industries where you can use a chainsaw
There is a common purpose for using a chainsaw in today's world – cutting firewood. However, the difference will depend on its utility in different areas or industries. Here are the different industries where you can use a chainsaw –
Wood industry
As the name suggests, the wood industry uses chainsaws a lot more than other industries. It can easily perform all the work, from cutting down large trees to chopping down medium-sized trunks.
Workers use chainsaws for cutting firewood, trees felling, chopping furniture wood, and more. Consequently, chainsaws can also turn logs into lumber, making them suitable for manufacturing. Depending on the type of wood, the handyman can make use of high-powered machines or low-powered options.
Domestic use
Chainsaw users all over the world use chainsaws for maintaining their green lands. Gardening becomes much easier if you use professional tools.
Consequently, they can also help in pruning on lower levels and sculpting foliage. Depending on the resources available, you can make use of an electric, gas-powered chainsaw, or cordless chainsaw for trimming and cutting purposes.
Agriculture industry
The chainsaws can also perform their cutting duties in the agriculture industry. From cutting crops to chopping short wood pieces for agricultural uses, a chainsaw can do it all.
In the agriculture industry, the chainsaws can be elongated with an exclusive bar that runs the chain for cutting purposes.
What is chainsaw used for?
1. Cutting down trees and branches
This is one of the most obvious uses of a chainsaw. A chainsaw is an ideal tool for cutting and chopping wood. They are portable, and you can easily carry them to a stand or ladder and cut down annoying branches.
With the right-sized chainsaw, a few careful cuts, and the right amount of power, you will be able to take down trees and branches of different sizes.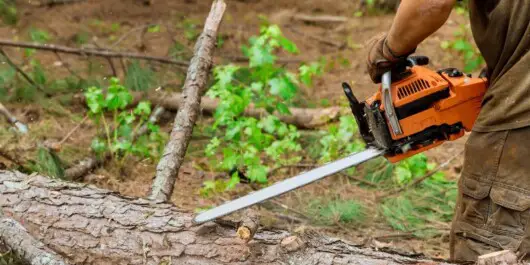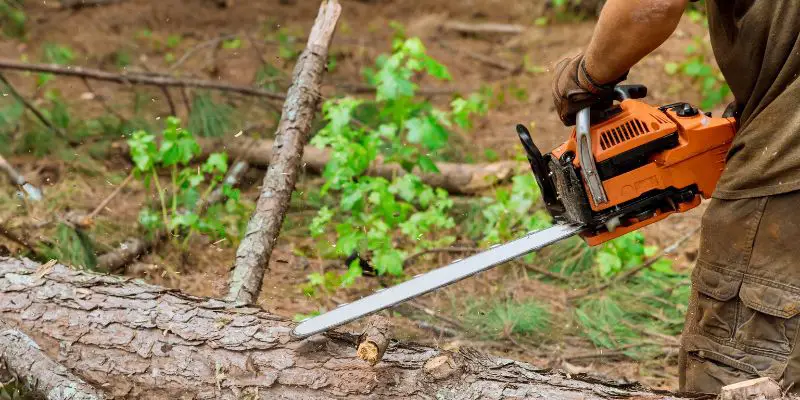 2. Turning wooden logs into lumber
Once the tree gets taken down, you will want to turn it into usable wood. You can easily cut uniform lumber that can be used for building, sculpting, and more by utilizing a small chainsaw mill.
The piece of lumber can be sized to frame a home or shed, build a bench or deck, make garden boxes, and more.
3. Chopping firewood
If you own a chainsaw, you will no longer need to pull out the axe and start swinging. You can just split the wood with the power of a gas-powered or electric chainsaw.
4. Sculpting foliage
Are you a landscaper? If yes, then a chainsaw is a must for you. Anyone who has bushes or hedges on their property that they want to maintain will require a personal landscaper.
A chainsaw will help with that as well. You can carefully sculpt foliage around your property and trim the bushes down to the desired size.
What type of material can you cut with chainsaws
A chainsaw can cut a wide variety of different materials, including –
Stone
Cutting stones with a traditional chainsaw might be alarming, as it greatly reduces the lifespan of the saw and makes the machine dull. However, there are special versions of the chainsaw, such as the compact and highly powered ones, which are capable of chopping bricks and concrete drywalls.
Ice
In cold areas, where weather conditions can get quite extreme, chainsaws can be used for cutting ice blocks or sculptures. People living in places where glaciers are common can also use these powerful tools.
Meat and bones
Based on the later use, some types of chainsaws can be used for cutting meat and animal bones by meat sellers.
Metal
Even though you aren't restricted to cutting metal with chainsaws, using standard chainsaws can cause trouble. However, you can make use of circulating and reciprocating chainsaws (with hard metal cutting edges) for cutting tough metals.
Plastics
Some kinds of chainsaws can also be used to cut plastics, including Plexiglas, Polyethylene, Polypropylene, Polycarbonate, Lexan, and Acrylic. Subsequently, a particular tool named a pneumatic chainsaw can be used for cutting plastics.
Glass
You can easily cut glass using circular or special glass-cutting chainsaws. Otherwise, using any other type of tool might lead to dangerous situations.
What is a chainsaw used for in a garden
DIY projects
You can use a chainsaw for building wooden tables and chairs to give your garden an earthy and eco-friendly touch. Other than that, you can even prepare rustic shelves, bird feeders, candle holders, storage crates, and more to decorate the garden. You will find several wonderful designs and DIY ideas online.
Log benches
A bench can be the simplest and most attractive garden decoration. You can make the best use of the wooden logs by trimming them into measured pieces. Slice one side of the wooden log into flat planes such that you can easily sit on it. Moreover, ensure that the flat side is smooth enough to sit. For that, you should use sandpaper before staining them with color.
In case the log isn't thick enough, you should try 2-3 of them. Take a couple of pieces and join them with the top log. Make use of large-size nails or screws for joining different log pieces.
Make sure that they are smoothed out completely so that you can avoid scratches or torn clothing. For large and heavy logs, you can easily cut them at an angle and set the bench.
Bird feeder
A bird feeder can make the garden much more lively and joyous. You can cut a thin log to two meters in height and then join a bird feeder over it. You can easily create a bird feeder of your own as there are several designs on the internet.
Other than that, the simplest method would be to slice planks and then join them into a box. Then, add plexiglass to one side such that you can keep an eye on exactly how much seed is left in the feeder. Further, you can color the feeder and make it durable in all weather conditions. Besides, you can even add a wooden pot for the bird bath.
Garden fence
Another great use of chainsaws would be by making garden fences using trees. This eco-friendly option will provide a better countryside look to your garden while protecting it from all sorts of intruders.
As wood captures moisture, it can easily degrade or swell in no time. To prevent such issues, make use of latex paint formula over the fences. This can add some much-needed color and decorative elements to your garden. Other than fences, you can even use chainsaws for building planter boxes. This will allow you to make specific gardens like a herb garden or veggie garden in a more stylish and organized way.
Wooden plumbing pipes
You can add wooden plumping pipes in certain areas of the garden. This will bring an artsy and vintage look to your patio. You can also design it along with metal pipes. Moreover, you can color it or use craft works for making things more visually appealing.
Other than that, pipes can work much better like a trellis. You can also plant clematis, climbing roses, or other flowering plants to entice the garden.
How to maintain your new chainsaw properly
Now that you are aware of the common ways chainsaws are used, it's important to learn how to maintain your new chainsaw properly. A chainsaw has got many moving parts that work together, so it'll be important to take care of the tool if you want it to last longer. Here are some of the tips that you should consider keeping your chainsaw in great condition –
Sharpen the chain
The sharper the teeth of your chainsaw, the easier it will cut. To sharpen the chainsaw chain, use a filing kit that comes with a sharpener and depth gauge tool. This way, you can file the teeth to the right level when required.
Clear debris
The dirtier the bar and chain, the more likely they are to get damaged when they're used. To avoid that, make sure that you clear off the chainsaw's teeth after each use. This is even essential when it comes to materials like mud, which could damage or rust the metal.
Monitor chain oil
Lubrication is essential for your chainsaw. Without proper lubrication, the metal moving at fast speeds will be liable to cause heat and eventually break down. If a chain is looking slightly dry, you should grease it up with chain oil so that you can keep it sliding nicely.
Clean the gas tanks
Gas inside the chainsaw can start breaking down into sludge, which can jam the fuel intake, plug the carburetor, or degrade the chainsaw's performance. In case you notice any performance issues, you should grease it with oil and then clean the chainsaw.
FAQs
Is a chainsaw only used for cutting wood?
As a general assumption, the tool is used for cutting. However, this robust machine has got more potential than that. Chainsaws can easily cut through metals, concrete, plastics, drywalls, floors, glass, roofing, metal, bones, and more.
Only the appropriate tools can cut the respective materials, despite there being a wide range of materials. For instance, you cannot cut concrete or bricks with a standard chainsaw. You will need a professional, heavy-duty option.
Can anyone use a chainsaw?
Chainsaws can be as fatal as death and also cause severe issues. Therefore, it is important that you train yourself before trying to handle a dangerous machine. The more you practice and handle the chainsaw carefully, the easier it'll be to use it. Make yourself competent enough such that you can avoid any injuries or mishaps.
Do you require a license to use a chainsaw?
No, you don't need a license for using a chainsaw. There is no obligation to have a license or training certificate for using a chainsaw. However, you shouldn't use it without adequate practice, as this could lead to potential injuries.
For how long can you use a chainsaw?
The runtime of the different types of chainsaws varies and differs from brand to brand and model to model. For instance, a small chainsaw can exclusively be used for 15–40 minutes, whereas a battery-powered chainsaw can be used for 2 hours. However, more powerful and high-capacity gas options are capable of running for hours.