Has this thought ever crossed your mind if can one use motorcycle chaps? This is a common scenario that pops into the heads of chainsaw users looking for alternatives to chainsaw chaps.
The simple answer to can one use motorcycle chaps with a chainsaw is no. As tempting as it may sound, motorcycle chaps cannot be safe alternatives to chainsaw chaps. Chainsaw chaps come with specific material and protective layers present to halt the movement of the chainsaw chain. Your motorcycle chaps are made using leather and will not have those layers of protection, rendering them ineffective.
However, you can still wear motorcycle chaps for cutting and pruning, just ensure that you wear chainsaw chaps over them. These protective chaps are made up of special fabrics designed to protect you from being on the receiving end of a running chainsaw. These will be your personal protective equipment that is recommended by not just manufacturers, but also by organizations like OSHA. In this article, you'll get to know all about using motorcycle chaps for chainsaw works, are they a viable alternative, and everything in between.
Does using motorcycle chaps as chainsaw chaps make sense?
Typically, when people think of motorcycle chaps, they generally think of riding bikes and not chainsaws. Because this is how it's supposed to be. Using motorcycle chaps as chainsaw chaps do not make sense because they two are worlds apart. Motorcycle chaps will not come with the fabrics and protective layers that protect you from chainsaw-related injuries. Chainsaws are incredibly powerful tools and whether you're a beginner or an expert, they are always risky. When using a chainsaw, it'll be important to be kitted up in the right places for avoiding risks or accidents.
Chainsaw chaps are mandatory safety and protective equipment for anyone using a chainsaw. In fact, always wear helmets, gloves, steel-toed boots, noise protection, chainsaw chaps, and more to keep your safety in check. Chainsaw chaps will protect your leg in case of sudden accidents.
Chainsaw chaps are ideal for every chainsaw user, whether you're a beginner or an expert. Workers who take part in professional heavy-duty tasks will greatly benefit from wearing chainsaw chaps. While some people may find it fun to operate a chainsaw, you'll need to ensure that you cover the safety quotient. Chainsaws are tools that can easily injure you in case you mishandle them. Having the right protective gear will be pivotal in safeguarding you and keeping you away from injuries.
Are chainsaw chaps an alternative to motorcycle chaps?
Regardless of how thick or tough your motorcycle chaps are, they are not a viable alternative for chainsaw chaps. Chainsaw chaps are far safer than a pair of motorcycle chaps.
Chainsaw chaps are made of a rugged shell of denier polyester treated with a water-resistant coating. The shell will cover a core composed of either Kevlar, ballistic nylon, or Tek warp. These materials are laid out in layers. If a chainsaw contacts the trousers, the outer layer will be cut through, but the inner layers will be drawn out. It'll wrap around the chainsaw's drive sprocket and lock it. It'll then halt the chain and limit the damage to the operator's leg. The length of the chaps and the number of layers will define the safety class.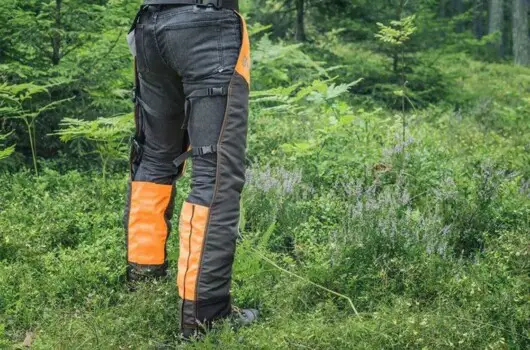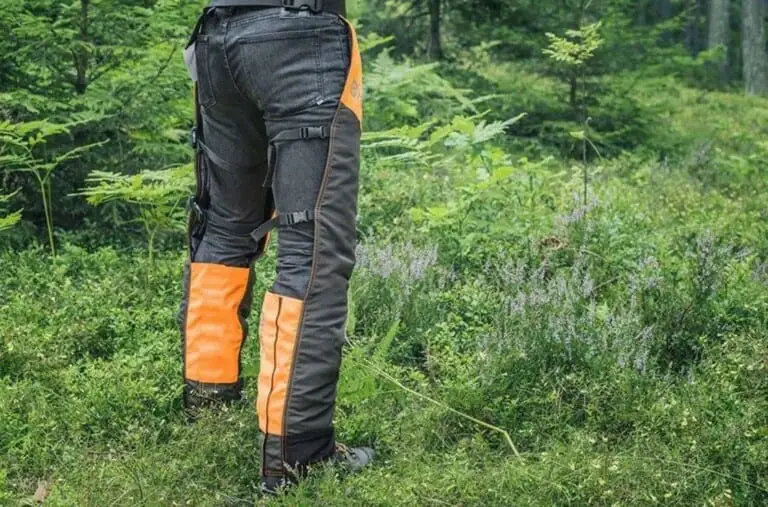 Chainsaw chaps come specially designed in a way that they're able to withstand and slow the rotation of the chain. They will halt the chain's rotation and give you enough time to move out of harm's way. Interestingly, they can easily stop a chainsaw chain spinning at speeds between 2700 to 3200 feet per minute.
How do chainsaw chaps protect you from injuries?
The primary purpose of chainsaw chaps is to protect and guard your legs when you're using a chainsaw. Whether you're cutting trees in your backyard or doing heavy-duty work, chainsaw chaps will save the day. In situations, when you accidentally drop your chainsaw, the material and protective layers in your chainsaw chaps will offer protection. Further, the chainsaw chaps will also protect you from flying splinters.
There are thousands of chainsaw-related accidents that are reported annually. If you want to avoid having the same fate as then, then including chainsaw chaps in your PPE kit is necessary. Besides keeping you safe, chainsaw chaps will also give you a professional and neat-looking appearance. There are many other benefits of the chainsaw chaps, including –
Affordable
Chainsaw chaps are very easy to afford, and you can purchase them either from a store near you or online
Oil and water-resistant
Many chainsaw chaps come with a DWR finish (durable water-repellent finish), which makes them oil and water-resistant. Being oil and water-resistant is important for the protection of your chaps as well as yours. The impact of oil on the fibers of the chaps could have a long-term effect on the performance of the fibers. Being resistant and having a DWR finish will slow down the contact of oil, fuel, or water with the fibers. Further, they will also protect you and allow you to continue working even during rainy and snowy weather.
Available in different sizes
Chainsaw chaps range from small to large sizes. The chaps will be readily available in any size that will suit your needs.
Adjustable waist
They will usually come with adjustable straps that you can use to fasten the chaps to your legs. This will give you a better fit while also adding to the comfort and range of motion.
Made using heavy, thick fabrics
Chainsaw chaps come with heavy and thick fabrics that offer reliable protection while also offering comfort. Chainsaw chaps are made of a rugged shell of denier polyester treated with a water-resistant coating. The protection layers are made of either Kevlar, ballistic nylon, or Tek warp. These materials are laid out in different layers.
Durable and comfortable
Not only are the chainsaw chaps key to your protection, but they are also durable and comfortable to work with. Find a pair that will suit your needs, and you won't have to look for another pair for a while. Chainsaw chaps are durable and when you add in the fact that they're oilproof and waterproof, they're almost guaranteed to last for years.
When operating chainsaws, leg injuries can commonly occur. Chainsaw chaps will protect you by making use of the clogging principle. This will protect you from getting injured by the chainsaw. The material used for chainsaw chaps is designed for clogging the sprocket when your chain touches the chaps. By clogging the sprocket, the chainsaw chain will be stopped. Even if the chainsaw can get through the outer layer, it'll never reach your skin thanks to the protective layers.
Maintain and take care of your chainsaw chaps for a longer lifespan
When it comes to the maintenance of your chainsaw chaps, there are two key things to consider – repair and cleaning. When your chainsaw chaps get damaged, you should always ensure that you repair them as soon as possible. Further, repair them all even if they're small cuts or tiny holes in the outer layer of your chaps. You could make use of a seam grip for repairing any sort of damage on the nylon shell. It will create some kind of waterproof and abrasion-proof patch that will keep them safe from damage and contaminants.
Another way you can take care of your chainsaw chaps is by cleaning them regularly. Make sure that you're washing them with your hands each time you're using them. Further, dry them outside in the sunlight. In case the manufacturer of the chainsaw chaps has recommended a different technique to wash, then follow the mentioned technique. Further, if the user manual mentions a specific type of detergent, then remember to use it. Moving away from the recommended techniques might end up harming your chainsaw chaps. Further, then clean them in the same way that you would clean a pair of jeans, then simply hang them outside and allow them to dry.
Apart from maintenance and taking care of your chainsaw, you should always wear the right-sized pair of chaps. This way your chaps will work for a longer time period. Wearing baggy and loose chaps could have an adverse effect as they could get caught in the chainsaw easily. This will mean that your chainsaw gets cut far earlier than it normally would. The right-sized chainsaw chaps will shield your legs from potential accidents while helping you avoid trips to the doctor.
Conclusion
Thank you for reading. Hopefully, now you have a better understanding of chainsaw chaps and motorcycle chaps. Now you'll have the answers to questions like can one use motorcycle chaps with chainsaw. While it might sound like a decent alternative, but motorcycle chaps cannot be used to replace chainsaw chaps. The latter is made using special fabrics and has multiple protective layers. These protective chaps are designed to prevent or minimize the risks involved with using chainsaw chaps. Further, they'll greatly help you avoid serious injuries to your lower limbs in case your chainsaw comes in contact with you when it is running.
Over time, there is a decent chance that you might accidentally lose control of a running chainsaw. Sometimes it happens, whether you're a beginner or an expert. In such situations, wearing a pair of chainsaw chaps will be the difference between a slight graze and a fatal accident. Never think that wearing something like jeans or motorcycle chaps will be enough to protect you. Always remember, no matter how experienced you are, accidentals and miscalculations can happen at any time. Your safety should always be your first priority, instead of having to act after the injury, try to prevent it.