Are you in the market to buy a new battery chainsaw, but don't know if they are any good? If yes, then you are definitely in the right place at the right time.
Are battery chainsaws any good is a common question that potential buyers have when looking to buy a new chainsaw. Yes, battery chainsaws are good enough, and they can be an excellent option for carrying out smaller jobs. Due to recent battery improvements, these chainsaws are powerful enough that they can do basic and even more challenging jobs.
At times, a cordless chainsaw can get the job done faster than a gas-powered model. You will only have to put the battery in it, and you will be good to go. Battery chainsaws are comparatively quieter, require less maintenance, and will be cheaper to own. Further, they also do not result in a lot of fuel emissions. Using two batteries will give you the option to work with one while you are charging the other one.
In this article, you will get to learn all about battery chainsaws, are battery chainsaws any good, key features of a battery chainsaw, what is important to consider when buying a battery chainsaw, and more. Stick around to get all the answers that you are looking for.
Battery Chainsaws – A Less Noisy and Environment-Friendly Chainsaw Option
With the advancements in electrical technology and batteries, there have been significant improvements in electric power tools like chainsaws, lawnmowers, and more. Some of the reasons why suburban homeowners feel more comfortable using electric power tools tend to be less noisy, relatively fast, environment friendly, and need minimal maintenance.
Battery-powered chainsaws are also more efficient and reliable when it comes to carrying out small jobs compared to their gas-powered counterparts. Say that you are a homeowner who is looking to buy a battery-powered chainsaw, you'll have to do your research.
Battery chainsaws are also known as cordless chainsaws. Known for offering convenience and low maintenance compared to gas-powered chainsaws, they come in different varieties for different kinds of projects.
While battery chainsaws are a great option, but this doesn't necessarily mean that they are the best fit for you. You will have to do your research and find out which type of chainsaw suits you the best. There are many factors that you should consider when looking to buy a new chainsaw, including the nature of the job you're going to need it for, as well as your level of expertise.
Features Of a Battery Chainsaw
Based on the nature of the job you're going to carry out and the features of a battery chainsaw, it is important to confirm that all these things suit your needs. Here are some of the factors that you should consider thoroughly to make the right choice –
Battery system
The battery is easily the most distinguishable feature in a cordless chainsaw. The battery is what powers the entire thing and offers the extra convenience of cutting. However, this is also the biggest con of a battery chainsaw. As this type of chainsaw is battery-dependent, it'll be of no use once the battery is finished. To deal with the chainsaw, you should always carry its charger and an extra battery in case you aren't able to find a source to plug it in.
A battery could run up to 45–90 minutes. On continuous usage, it is possible to utilize battery backup and run your chainsaw for up to 2 hours.
Charging time
The charging time of your battery will vary from model to model. For battery chainsaws, you can expect a rough estimation of 90–180 minutes. Moreover, it'll be best if you keep a spare battery on hand.
Motor power
Battery chainsaws make use of a standard brushless motor that offers efficient usage with less friction.
Bar length
Bar length is a variable factor that will be based on the kind of task that you'll have to perform. Battery chainsaws come in different bar lengths. For small tasks, you can go for 10 or 12-inch chainsaws. For medium to heavy-duty tasks, you should go for 14-inch, 16-inch, or 18-inch chainsaws.
Oiling system
Battery chainsaws may not require fuel or oil for running but they'll definitely need it for maintenance of the chainsaw bar and chain. Some chainsaws come with an automatic oiler that can keep the chainsaw oiled otherwise you'll need to do it manually each time.
Chain tensioning
A loose chain can easily fall off, while an extra tightened chain can break down. The chainsaw chain needs to have optimal tension to deliver optimal performance. This must be checked before you use it. It can be easily fixed with a screwdriver and a wrench. You can find detailed instructions in the owner's manual.
Fuel emission
Battery chainsaws don't require gas and oil for running. This is why they don't emit any harmful gases and fumes into the environment.
Are Battery Chainsaws Any Good?
Even though gas-powered chainsaws are the most popular type of chainsaws, battery chainsaws have proven to be a great alternative. In fact, battery chainsaws are good enough as the first choice and can be an excellent option for carrying out smaller jobs. Due to the battery improvements in recent times, they are powerful enough to carry out not just the basic but more challenging tasks too. Often, a cordless chainsaw can be faster at performing jobs compared to gas-powered chainsaws. All you need to do is put the battery in the chainsaw, and you'll be ready to go.
Chainsaws are also quieter, cheaper to own, require less maintenance, and don't give out fuel emissions. Using multiple battery chainsaws will give you the option to work with one while the other chainsaw is charging. Further, they are also a less noisy, lightweight, and easy-to-use alternative to their gas-powered counterparts. A battery chainsaw holds the plus points of both gas and corded chainsaws. Some of them are low maintenance and nature-friendliness of corded chainsaws and the ease of carrying around of the gas-powered chainsaw.
The target audience of a battery chainsaw is largely beginners who are relatively new to the technicalities of a chainsaw and homeowners who have to carry out low-duty tasks. The use of batteries will also make them the quietest ones in the chainsaw family.
On normal usage, the battery of a battery chainsaw can last between 40 and 60 minutes. On intermittent use, the chainsaw can run for around 30–40 minutes. In case you are using the chainsaw non-stop without stopping and starting your chainsaw again and again, it could offer 2–3 hours because of the battery backup.
How Good Are Battery Chainsaws in Today's Market
For homeowners who require a chainsaw for tackling small jobs around the yard, it'll definitely be worth it. Battery-powered chainsaws will offer you features like ease of use, ease of maintenance, no cord limitation, little to no noise, lightweight, and no harmful emissions. For professionals, a battery chainsaw isn't the best possible option as even with a spare battery and a powerful engine, it doesn't offer the work hour limit, which is the main requirement of professional work.
Stihl battery chainsaws
The battery chainsaws offered by Stihl offer some of the best features of both gas and electric chainsaws. The battery chainsaws of this brand contain features like – easy start, lightweight design, quieter motor, and 36V lithium-ion technology. Still has a lot to offer in this scene, and it is certainly one of the frontrunners of battery chainsaws in the market.
Ryobi battery chainsaws
Ryobi offers a wide variety of battery-powered chainsaws. The models of this brand normally come with features like – ease of use, lithium-ion battery, and push button lubricator. Ryobi 40530 is one of the most popular options in the battery chainsaw market due to its user-friendliness.
Makita battery chainsaws
Makita is another brand that offers an exceptional range of cordless battery chainsaws that come with bar lengths varying from 12 inches to 18 inches. All Makita models aside from specifics come with common features like – lithium-ion battery, brushless motor, top-handle design, charger, and tool kit.
Atlas battery chainsaws
Atlas offers battery chainsaws with the battery power increasing with the length of the chainsaws of this brand offer features like – lightweight, lithium-ion batteries, brushless motors, and bar and chain oil.
Should You Choose a Gas-Powered Chainsaw or a Battery Chainsaw?
The best choice for a chainsaw will depend on how you're intending to use the chainsaw. If you use it frequently and for extended periods, a gas-powered chainsaw will probably be the better choice. This will also apply if you're using it more in remote locations. In such situations, you should take extra gas with you and fill the tank once it runs empty.
On the other hand, if you have a battery chainsaw, you can carry spare batteries with you. When the battery gets empty, you will need to stop. If you're working close to a location with a mains supply, you can charge the battery while using the other one and then swap them once it is empty. You must take care that this will only work if you're able to charge the battery fast enough.
For small-scale yardwork, battery chainsaws can definitely be a wonderful choice. Not only are they safer and quieter, but they'll also require little maintenance, and they can serve your needs for a long time. Further, the running cost will also be low as they don't require fuel. However, they aren't as powerful as some of the bigger, heavy-duty gas-powered chainsaws. If you're looking for power, a gas-powered chainsaw will be the best option for you. This will also apply if you have to use a long blade. Almost all battery chainsaws don't work well with long blades.
Things to Consider When Purchasing a Battery Chainsaw
1. Torque
All cordless battery chainsaws make use of an electric motor and a battery, but it doesn't mean that they all feature the same power and torque. The electric motor specifications and the battery voltage will determine how much torque the chainsaw can offer. From the chainsaw specification, this will be hard to see. Of course, the battery voltage and the RPM of the chainsaw chain can help with this, but there isn't a specific number that you can use for comparing different models. Try and find reviews from someone who has used that model previously.
2. Battery life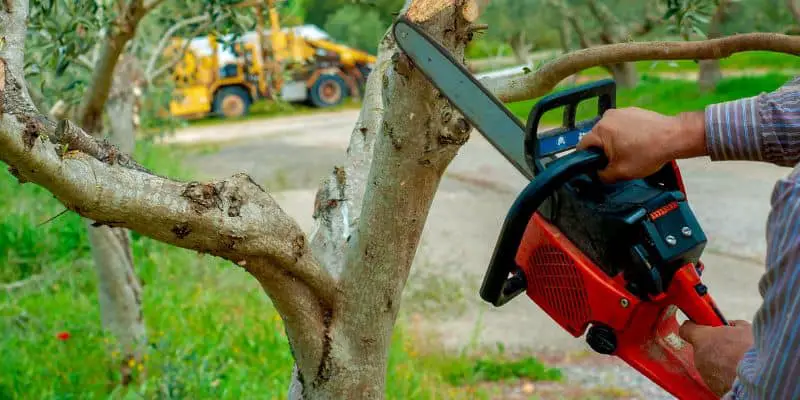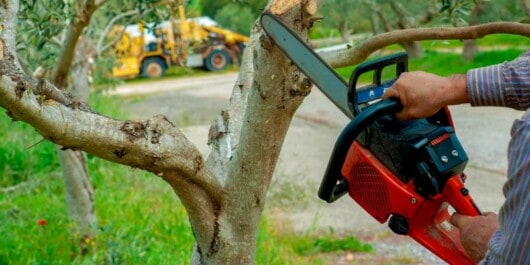 The battery life is an important factor of a chainsaw. How important the battery is for you will depend on the type of jobs you have to carry out. If you see the specifications for a specific model, you should know that they are measured under ideal conditions. The actual number will depend on the battery's age, the temperature under which you are running the chainsaw, and how much power you're asking from your chainsaw.
If you demand more power from your chainsaw, the battery will likely last shorter. However, you should also know that you aren't going to have the chainsaw switched on all the time. Only when you're pulling the trigger, the motor will make use of the battery.
3. Charging time
If you are using the chainsaw for more extensive jobs, the charging time will be a major factor. When the battery is empty, will you have to wait for less than an hour, or will it take an entire day to recharge it? In many situations, you'll have a spare battery that you'll be using when the first battery is empty. Once you swap the battery, you will be putting the empty one in the charger. If your charger is fast enough, you will be able to swap it once more when the spare is empty.
If you are using the chainsaw occasionally and for shorter jobs, a fast charge option might not be necessary. Often, fast charging will prove to be costlier and put more strain on the battery.
4. Chainsaw bar length
If you're purchasing a chainsaw, you should check the size of the guide bar. This will help determine what size of logs, trees, and branches you can cut. The ideal bar length will be around 2 inches longer than the wood that you intend to cut.
Of course, you can easily cut smaller longs with a longer bar, but you shouldn't purchase the chainsaw with the longest bar, as this isn't the right way to go. You should try and match the bar length with the jobs that you're planning to do. If you're using the chainsaw primarily for trimming, you can go for a bar length between 8 and 12 inches. If you're planning to do a lot of tree cutting or chopping wood, then you should go for a 16-inch or 18-inch bar.
5. Chain tensioning
In order for the chainsaw to operate properly, the chainsaw chain needs to have the right tension. If the chain isn't tight enough, it could get detached from the bar. Meanwhile, if it is too light, it could break. This is something that you should always check and adjust if necessary before you use the chainsaw. If you are using a new chain, it will stretch quickly and it will likely need tensioning multiple times.
How the chainsaw chain has to be tensioned will depend on the brand and model. For some models, you will require a wrench and a screwdriver. Meanwhile, others come with a toolless chain tensioning system. This means that you do not require a tool for tensioning the chains. These systems will be much easier to use when you're cutting and finding that the chains require tensioning.
6. Chainsaw oiling system
To keep the chainsaw operating properly, the chains have to be lubricated from time to time. This will help keep the motor from severe strain and prevent the bar and chain from getting damaged. There are numerous methods of how oil can find its way to the chainsaw chain. It can be done easily with a button that you need to push. It can also be done with an automatic system that can lubricate the guide bar and chainsaw chain with consistent airflow. Some automatic systems make use of a fixed amount, while you can control it on other chainsaws.
It is advised that you should go for a chainsaw that has an automatic oiling system. This way, you can be assured that the bar and chains are lubricated adequately. You will only have to take care that there's enough oil in the tank and that the system isn't clogged.
FAQs
How long will a battery chainsaw last?
Battery chainsaws can offer a cutting time that ranges from 45 minutes to 60 minutes. As in most cases, the trigger isn't pulled every minute, so you can get multiple hours of backup time from battery-powered chainsaws.
Is it safer to use a battery chainsaw?
Battery chainsaws can be considered safer than their gas-powered counterparts as they don't require any fuel for operating, which can result in added safety concerns. However, this does not necessarily mean they are hazard-free. Proper care must be taken when operating chainsaws, as they use a sharp spinning chain.
Would it be possible to use an electric chainsaw in the rain?
Cordless electric chainsaws don't pose any serious shock hazards, as they operate on D.C. power. However, you should still avoid using it in the rain as the water may damage the electric circuitry. Corded chainsaws that operate on A.C. mains must be kept away from water to prevent electric shocks.
What safety gear should I use when operating a battery chainsaw?
It doesn't matter what type of chainsaw you're using, it is always essential that you be equipped with the right safety equipment. The necessary safety equipment includes protective gloves, a jacket, safety goggles, chaps, and steel-toed boots.